24 Hours to Live is an episode of Hey Arnold!.
Production
This episode is a remake of the pilot episode, and the 3rd incarnation of the original 3D Comic "Arnold Narrowly Avoids A Thrashing".
Summary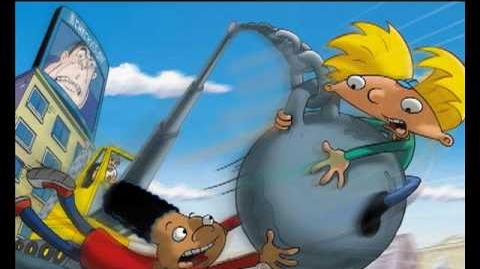 After Arnold accidentally hits Harold in the face with a baseball, Helga persuades Harold to wait until the next day to fight him. Meanwhile, Helga constantly reminds Arnold of how long he has to live. Upon arriving at the fight, Arnold tells Harold that "I'm crazy, and you should never hit a crazy person." When Harold asks him to prove it, Arnold sings the song "I'm Crazy" while acting out the lyrics, and successfully dodges the beating.
Gallery
Trivia
Goofs
Sheena is one of the people at the fight, but in the episode "School Play", Sheena says she doesn't like violence.
Harold was not wearing socks when he realized Arnold really is crazy.
The baseball game was in the street despite renovating Gerald Field in the episode "The Vacant Lot".
See also
This article needs expansion. But, with a little cultivation, it could become a virtual paradise. Won't you please help out an article in need? This template will categorize articles that include it into the Article stubs task category.
Ad blocker interference detected!
Wikia is a free-to-use site that makes money from advertising. We have a modified experience for viewers using ad blockers

Wikia is not accessible if you've made further modifications. Remove the custom ad blocker rule(s) and the page will load as expected.