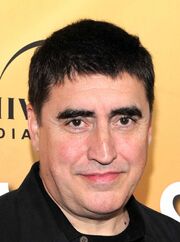 Alfred Molina (born May 24, 1953) is a British actor, best known for his role as Doctor Octopus in the 2004 movie Spider-Man 2 and as Satipo in Raiders of the Lost Ark. He has also done voice acting in shows including Gravity Falls and Rick and Morty. He also voiced Professor Knight in Monsters University. He will voice La Sombra in Hey Arnold! The Jungle Movie.
Ad blocker interference detected!
Wikia is a free-to-use site that makes money from advertising. We have a modified experience for viewers using ad blockers

Wikia is not accessible if you've made further modifications. Remove the custom ad blocker rule(s) and the page will load as expected.