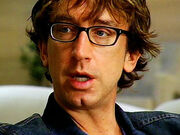 Andrew Roane Dick, better known as Andy Dick, is an American actor and comedian. He is best known for his eccentric and irreverent personality and was a regular cast member on the short lived sketch show The Ben Stiller Show. He was also a contestant on the eighteenth season of Dancing With The Stars.
He has been notorious and hated in recent years by the public for his drug addiction, his anti-semitic and racist statements, sexual harrasment and sexual assaults.
He is the voice of Monkeyman on Hey Arnold! (in Monkeyman!) along with coincidentally sharing a similar appearence with the character (even though the character had appeared long before he voiced him).
Ad blocker interference detected!
Wikia is a free-to-use site that makes money from advertising. We have a modified experience for viewers using ad blockers

Wikia is not accessible if you've made further modifications. Remove the custom ad blocker rule(s) and the page will load as expected.