Arnold's Halloween is a special half-hour episode in the Hey Arnold! TV Series.
Summary
Arnold and Gerald play a Halloween prank on Grandpa by making him think aliens have landed in the city. However, the broadcast gets leaked and scares everybody in the city.
Trivia
This is the second episode where Helga yells out "ARRRNOOOOLLD!", the first time was in "Downtown As Fruits."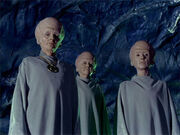 This episode airs 59 years and 3 days to the day of Orson Welles' 1938 radio broadcast The War of the Worlds, on which this episode is based. His radio broadcast also sent many people into a panic.
A "Welles Ridge" is mentioned in the episode. Obviously, it is a reference to Orson Welles, who's 1938 radio broadcast is parodied in this episode.
Maurice LaMarche, who voices Big Bob and Douglas Cain, voiced Orson Welles in The Critic episodes "Eyes on the Prize" and "Frankie and Ellie Get Lost."
The costume and makeup selected by the kids for their hoax are that of the Talosians from Star Trek: The Cage (#1.0) (1966) and the Metaluna Mutant from This Island Earth (a science fiction film released in 1955).

The wheel on the show Big Bob was watching had spaces marked OOPS!, Bye-Bye, No Cigar, New Car, See Ya, Winner, Whole Enchilada, Sucker, Loser, Spin Again, and S.O.L.
Big Bob, when perusing the sports section of his newspaper, mentions "Green Bay".  This is probably reference to the Green Bay Packers football team.
All of the credits (except in the show's opening) were orange instead of yellow.
Just like "Arnold's Valentine", this episode aired 4 days before the actual day of Halloween on October 31st.
This is the only special half-hour episode of Hey Arnold! Season 2.
This is one of the few episodes where Helga shows no indication of her love for Arnold.
In the Shout Factory DVD release of Season 2, the episode is listed as "Operation: Arnold's Halloween", as well as in the Hey Arnold! The Complete Series DVD set.
See also
This article is a stub. You can help Hey Arnold Wiki by expanding it.