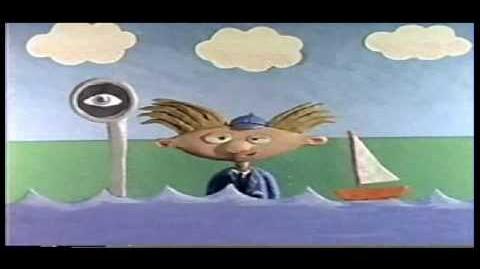 Arnold Escapes From Church is a short claymation film by Craig Bartlett made in 1988 and is the first appearance of the character Arnold. Arnold's parents appear in this too (but only from the neck down), Helga, Harold and presumably Miss Slovak also make cameo appearances.
Synopsis
During a reading of Psalm 23 at a church service, the audience gets to see how a young boy visualizes what the words mean.
Trivia
The reading spoken by the congregation actually mixes text from at least two Bible translations: the New International Version of 1984 and the Authorized ("King James") version of 1611.
Gallery
This article needs expansion. But, with a little cultivation, it could become a virtual paradise. Won't you please help out an article in need? This template will categorize articles that include it into the Article stubs task category.
Ad blocker interference detected!
Wikia is a free-to-use site that makes money from advertising. We have a modified experience for viewers using ad blockers

Wikia is not accessible if you've made further modifications. Remove the custom ad blocker rule(s) and the page will load as expected.