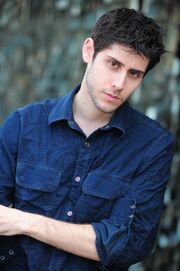 Benjamin Isaac "Ben" Diskin (born August 25, 1982) is an American actor, voice artist, and comedian, best known for voicing Numbuh 1 and Numbuh 2 in Codename: Kids Next Door, Sai in Naruto Shippuden, Joseph Joestar in Jojo's Bizarre Adventure: Battle Tendency, Eddie Brock/Venom in The Spectacular Spider-Man and as the current voice of Humphrey in the Alpha and Omega franchise.
Diskin voiced Eugene Horowitz for the majority of the series; from Season 2 until the beginning of Season 5, when he was later replaced by Blake McIver Ewing.
Episode Credits
Trivia
In several of his earlier appearances, his name is misspelled as "Ben Disken".
Ad blocker interference detected!
Wikia is a free-to-use site that makes money from advertising. We have a modified experience for viewers using ad blockers

Wikia is not accessible if you've made further modifications. Remove the custom ad blocker rule(s) and the page will load as expected.