Big Caesar
is an episode in the
Hey Arnold!
TV Series.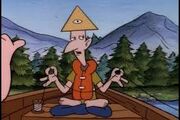 Summary
Arnold and Gerald try to catch Big Caesar, a prehistoric fish that is hard to believe even exists. Grandpa tells the boys about his attempt to catch Big Caesar and teaches them the ropes of fishing.
Trivia
Layout designer Caesar Martinez was credited as "Big Caesar Martinez" because the fish itself is, in fact, a caricature of Caesar Martinez.
The Fishing Contest celebrates the clean-up of the City Lake.
This episode marks the first time Arnold is aware of the boarding house's "Fishing Room".
Phil tried to catch Big Caesar in the past, on an October morning.
According to Phil, he is 80 years old in this episode.
Phil owns an autographed photo of Austro-American starlet Hedy Lamarr.  As seen in the episode "Veterans Day", Phil has had this autographed photo since at least WWII.
This episode is similar to an episode of The Simpsons where Homer goes after a giant catfish. That episode was animated by Tuck Tucker.
When Arnold and Gerald come back to the docks, Helga remarks: "Why if it isn't the Skipper and Gilligan", a reference to Gilligan's Island
Phoebe makes a non-speaking cameo while her is name is being mentioned.
Helga's boat is named "Olga I." 
The pyramid hat that Stinky wears resembles the symbol of the Green Eyes.
Goofs
The eyes of Big Caesar blink and move, but the eyes of a fish cannot actually do this in reality.
See also
This article is a stub. You can help Hey Arnold Wiki by expanding it.