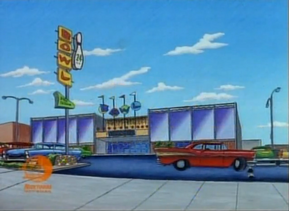 The Bowling Alley is a recreational building in Hillwood where individuals can go to bowl.
In the episode "Coach Wittenberg", Jack Wittenberg's bowling team faces off against his wife Tish's bowling team.
Additioinally, in "Teachers' Strike", Arnold and his friends are seen bowling here before recognizing Mr. Packenham, who was working at the Bowling Alley temporarily because of the strike.
Ad blocker interference detected!
Wikia is a free-to-use site that makes money from advertising. We have a modified experience for viewers using ad blockers

Wikia is not accessible if you've made further modifications. Remove the custom ad blocker rule(s) and the page will load as expected.