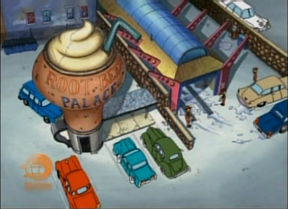 The Car Wash is a small generic car wash station located in Hillwood.
Big Bob's car can be seen coming out of it at the beginning of the episode "Grudge Match".  It is also located right next to the Root Beer Palace.
Its only appearance was in that episode.
Ad blocker interference detected!
Wikia is a free-to-use site that makes money from advertising. We have a modified experience for viewers using ad blockers

Wikia is not accessible if you've made further modifications. Remove the custom ad blocker rule(s) and the page will load as expected.