Cecile is a fictional character in the Hey Arnold! TV Series.
She is Arnold's pen pal from France. On St. Valentine's Day, after Arnold gets a letter from her, Helga pretends to be Cecile in order to have a date with Arnold. However, Cecile coincidentally planned to meet Arnold in person on the same day. After Cecile encounteres Arnold and the faux-Cecile, Gerald claims to be Arnold and offers to take her out to eat a hamburger, to which she gratefully accepts. Cecile is not seen since.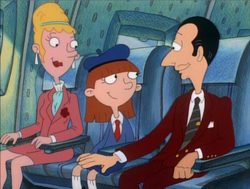 Appears in
This article needs expansion. But, with a little cultivation, it could become a virtual paradise. Won't you please help out an article in need? This template will categorize articles that include it into the Article stubs task category.
Ad blocker interference detected!
Wikia is a free-to-use site that makes money from advertising. We have a modified experience for viewers using ad blockers

Wikia is not accessible if you've made further modifications. Remove the custom ad blocker rule(s) and the page will load as expected.