Cecile is a fictional character in the Hey Arnold! TV Series.
She is Arnold's pen pal from France. On St. Valentine's Day, after Arnold gets a letter from her, Helga pretends to be Cecile in order to have a date with Arnold. However, Cecile coincidentally planned to meet Arnold in person on the same day. After Cecile encounteres Arnold and the faux-Cecile, Gerald claims to be Arnold and offers to take her out to eat a hamburger, to which she gratefully accepts. Cecile is not seen since.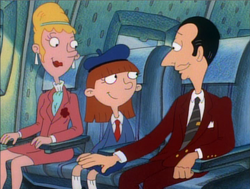 Appears in
This article is a stub. You can help Hey Arnold Wiki by expanding it.
Ad blocker interference detected!
Wikia is a free-to-use site that makes money from advertising. We have a modified experience for viewers using ad blockers

Wikia is not accessible if you've made further modifications. Remove the custom ad blocker rule(s) and the page will load as expected.