Cecile is a fictional character in the Hey Arnold! TV Series.
She is Arnold's pen pal from France. On St. Valentine's Day, after Arnold gets a letter from her, Helga pretends to be Cecile in order to have a date with Arnold. However, Cecile coincidentally planned to meet Arnold in person on the same day. After Cecile encounters Arnold and Helga, Gerald claims to be Arnold and offers to take her out to eat a hamburger; an offer she gratefully accepts. Cecile is not seen again after these events.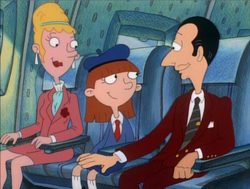 Appears in
This article needs expansion. But, with a little cultivation, it could become a virtual paradise. Won't you please help out an article in need? This template will categorize articles that include it into the Article stubs task category.