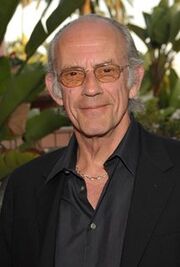 Christopher Allen Lloyd (born October 23, 1938) is an American actor who voiced the Coroner in Hey Arnold! The Movie. His most well-known roles include Dr. Emmett Brown in the Back To The Future trilogy, Judge Doom in Who Framed Roger Rabbit, Uncle Fester in The Addams Family and its sequel, and as Jim Ignatowski in Taxi. He has won three Primetime Emmys, two Saturn Awards, an Independent Spirit and a Daytime Emmy.
Ad blocker interference detected!
Wikia is a free-to-use site that makes money from advertising. We have a modified experience for viewers using ad blockers

Wikia is not accessible if you've made further modifications. Remove the custom ad blocker rule(s) and the page will load as expected.