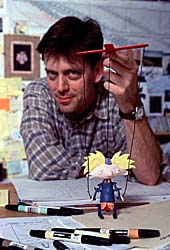 Craig Michael Bartlett (born October 18, 1956 in Seattle, Washington) is an animator best known for creating the television series Hey Arnold! His first job, after graduating from Evergreen State College in Olympia, Washington, was at Will Vinton Studios in Portland, Oregon. Besides working on Hey Arnold! he also worked for Rugrats in its first few seasons. He also co-wrote the computer animated film Unstable Fables: 3 Pigs and a Baby for The Jim Henson Company, as well as The Skrumps for the same company. He also directed a few episodes of The Ren and Stimpy Show.
Even before that, Craig worked on an old comic strip named Arnold which was a precursor of sorts to Hey Arnold! as it featured Arnold, Helga, Harold, and even the beginnings of a few other characters. The strip was featured in Simpsons Illustrated in the early 1990s. Craig also used to do clay animation: he did several versions of Arnold on Sesame Street during that same time, and also did a character named Penny on Pee-Wee's Playhouse.
Among his most recent work is the Cartoon Network telefilm Party Wagon, produced as a pilot for an animated TV series about settlers making their way to the northwest. However, CN did not pick up the series.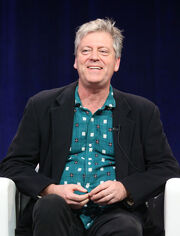 In September 2008, a show for pre-schoolers called Jim Henson's Dinosaur Train was picked up by PBS Kids; produced by Henson, this was his first show created by Bartlett to be picked up since Hey Arnold!.[1] The series debuted on most PBS stations on September 7, 2009.[2]
Craig Bartlett is married to Lisa Bartlett née Groening, sister of The Simpsons and Futurama creator Matt Groening, after whom Lisa Simpson is named.
In Hey Arnold! Craig Bartlett plays several characters, including Brainy and Miles Shortman; Ned is drawn to look like him.
In recent years he became an online activist on social media. He supported the 2017 Women's March, and is one of many cartoonists and creators (along with creators such as Rebecca Sugar and Lauren Faust), to stand up against and put an end to sexism and sexual harrasment in the animation industry, following the Chris Savino and Harvey Weinstein scandals.
Voice Credits
Writing Credits
Season 1
Season 2
Season 3
Season 4
Season 5
Other
Videos
See also
External links
References
Ad blocker interference detected!
Wikia is a free-to-use site that makes money from advertising. We have a modified experience for viewers using ad blockers

Wikia is not accessible if you've made further modifications. Remove the custom ad blocker rule(s) and the page will load as expected.