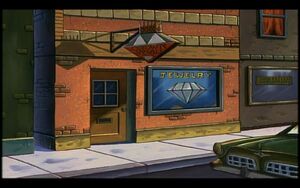 The Crown Jewel is where Helga possibly purchases and/or gets repairs for her locket of Arnold.
Not to be confused with the jewelry store Grandpa goes to get his watch fixed.
It only appears in "Helga's Locket".
Ad blocker interference detected!
Wikia is a free-to-use site that makes money from advertising. We have a modified experience for viewers using ad blockers

Wikia is not accessible if you've made further modifications. Remove the custom ad blocker rule(s) and the page will load as expected.