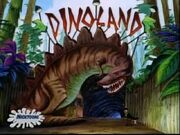 Dino Land is a dinosaur theme park owned by Sammy Redmond which appears in several episodes.
Appears In
Trivia
Dino Land is a parody of Jurassic Park.
Arnold and his friends are huge fans of Dinoland.
In the episode It Girl, Helga claims that she's been sneaking into Dinoland since she was seven years old.
Ad blocker interference detected!
Wikia is a free-to-use site that makes money from advertising. We have a modified experience for viewers using ad blockers

Wikia is not accessible if you've made further modifications. Remove the custom ad blocker rule(s) and the page will load as expected.