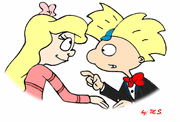 Hey Arnold! has a great, if not rabbid, amount of fan drawings. These can be sketches, paintings, coloring, and even made in computer paint programs.  Here is a page for artwork done over the years.
DISCLAIMER: DO NOT STEAL OR COPY FANART FROM THIS PAGE!! THIS IS AN ARCHIVE SHOWCASE OF FANART OVER THE YEARS AND ARTIST CREDITS WILL BE CREDITED WITH THE PICTURE TO PREVENT PLAGIARISM, THEFT, GIVE PROPER CREDIT, AND/OR CONFUSION.
Arnold
Arnold & Helga
Arnold & Gerald
Hey Arnold! Groups
Others
Crossovers
Ad blocker interference detected!
Wikia is a free-to-use site that makes money from advertising. We have a modified experience for viewers using ad blockers

Wikia is not accessible if you've made further modifications. Remove the custom ad blocker rule(s) and the page will load as expected.