Francesca Marie Smith is an American former actress who is best known for providing the voice of Helga Pataki on Nickelodeon's Hey Arnold!. She has also provided the voice for "Ashley B", "Upside-Down Girl", "Swinger Girl" on Disney Channel's Recess and made a cameo appearance on the 33rd episode of Nickelodeon's The Amanda Show, as one of Amanda Bynes' friends. She also stared as Penny in Fillmore (TV series) for one episode. Francesca graduated in Linguistics at California's Stanford University (see link below). Francesca also studied at Pepperdine University, graduating in 2008, she still works there as a salsa instructor.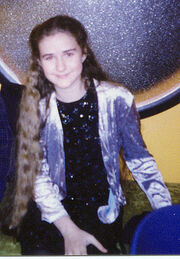 Voice Credits
Season 1
Season 2
Season 3
Season 4
Season 5
Other Credits
External links
Ad blocker interference detected!
Wikia is a free-to-use site that makes money from advertising. We have a modified experience for viewers using ad blockers

Wikia is not accessible if you've made further modifications. Remove the custom ad blocker rule(s) and the page will load as expected.