Games Animation Inc was a production company that co-produced Hey Arnold! with Snee-Oosh, Inc.
History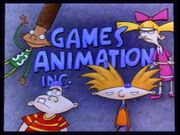 In 1992, Nickelodeon founded Games Animation as its own animation division under the guidance of Vanessa Coffey and Mary Harrington, who reported to Nickelodeon programming chief Herb Scannell. The initial duty was to continue producing The Ren & Stimpy Show after Nickelodeon dropped Spümcø and its creator John Kricfalusi from their duties on the show due to production delays. The studio then went on to produce Nick's first in-house Nicktoon, Rocko's Modern Life.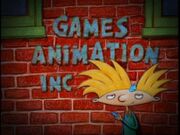 Games Animation produced the pilot of Hey Arnold! in 1994, and its first season until 1997. After that, the "Games" label was dropped, and the studio was renamed Nickelodeon Animation Studio.
At the time, Games was located in an office building at 4040 Vineland Avenue (the address of Sunset Arms is a reference to this) in Studio City, California.
Games Animation never had its official logo. Instead, every show the studio worked on had its own customized Games Animation logo.
Trivia
On the Games Animation logo for Season 1, there are small easter eggs on the bricks. For example, the name "Craig Bartlett" is visible below the "Inc".