Hey Arnold! is an American animated television series that ran from October 7, 1996 until June 8, 2004 on Nickelodeon.
Premise
The show stars 4th-grader Arnold, who lives with his grandparents Phil and Gertie, proprietors of the Sunset Arms boarding house. In each episode, Arnold will often help a schoolmate solve a personal problem, or he will encounter a predicament of his own.
Setting
Hey Arnold! takes place in the fictional American city of Hillwood.
Craig Bartlett stated in an interview that the city the show is based on is actually Seattle, with many features borrowed from other big northern cities, such as Portland and Brooklyn. Bartlett, having grown up in Seattle, bases many of the show's events on his own experience growing up in the city. The Pig War mentioned in the episode with the same title took place on the boundary between what is now the State of Washington and British Columbia.
The overpass above the Sunset Arms is the Alaskan Way Viaduct, located in Seattle. In many first-season episodes and later, the Brooklyn Bridge is seen as a prominent landmark in the city. Other episodes show an overview of Arnold's Neighborhood, with the New York City skyline in the horizon, complete with the Empire State Building, Central park and World Trade Center, suggesting that Hillwood could be a neighborhood in Brooklyn, or Queens. Also according to a List of public elementary schools in New York City P.S. 118 is a school in St. Albans, which is a residential community in the New York City borough of Queens. The area surrounding the city of Hillwood seems to more closely resemble a Northwest city than a Northeast city. In the episode Roughing It, where Grandpa takes Arnold and Gerald camping, and Big Bob takes Helga and Phoebe camping, the campgrounds look like they might be in the San Juan Islands (in Washington). Even though the duplex beach house that Arnold's and Helga's families rent for a week in Summer of Love" has a wall decoration that says "Cape Cod" (seen when Big Bob is in bed recovering from severe sunburns), a resort town on the coastline of Washington, Oregon, or even Northern California fits the storyline much better.
In the episode "Eugene's Bike", Arnold and Eugene visit Quigley Stadium which is in West Haven, Connecticut and was home to the West Haven Yankees from 1972-1979. West Haven is just north of New York. However, the stadium used in the series bears no resemblance to the actual Quigley Stadium.
The show first premiered in October 1996, so the series (including the final episodes and the movie) probably takes place in the mid to late 1990s. The clapper board at the end of "Summer of Love" when they are shooting the Babe Watch episode shows a date July 22, 1999 (Which would have been a Thursday). Even though the show takes place sometime between 1996 and 1999, old cars are a very common sight. Grandpa Phil drives a green 1930s or 1940s Packard, the Pataki family car is a blue 1970s Lincoln Continental, and Gerald's older brother Jamie-O drives a 1967-1968 Pontiac Firebird, just to name a few. The local police drive around in patrol cars resembling 1960s Dodge Polara sedans. The city buses resemble 1960s models of an unknown make and model, and they have manual transmissions, which wasn't common on buses in North America even during this time period. In a 2002 Nickelodeon Magazine article, it is said that the show's artists are obsessed with weird old cars. Despite the presence of old cars and some older-style appliances like console television sets, modern technology is also present. This includes computers, video games, VCRs, camcorders, modern bicycles, microwaves, and Arnold's high-tech bedroom with its remote-controlled hideaway couch and track lighting.
Background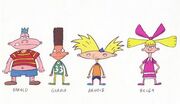 Hey Arnold! was created by Craig Bartlett and is based on his comics starring Arnold, which he created in 1986. Using the Will Vinton facilities Walkabout Program (a student production lab), Craig Bartlett created his Arnold Escapes From Church short film which later generated two more clay-animated short films, The Arnold Waltz (1990) and Arnold Rides His Chair (1991) which eventually aired on an early-1990s episode of Sesame Street. The familiar, cel-animated Arnold came about in the mid-1990s when Nickelodeon picked up the new series. Apart from the animation style, Nick's Arnold now wears a sweater, with his plaid shirt untucked (resembling a kilt). Only Arnold's cap remains from his original clay-animation wardrobe. "Arnold" comic strips also appeared in Simpsons Illustrated magazine (Matt Groening, the creator of The Simpsons is Craig Bartlett's brother-in-law).
Hey Arnold! debuted as an animated short for the Nickelodeon film Harriet the Spy in 1996.
The show also aired on "Nick on CBS" from 2002 up until September 2004. As of July 2008, the show has been off the air, but it returned to the Nicktoons Network channel in August 2008. It aired on Nickelodeon one time on Thanksgiving 2007 at 12:30 PM. In Europe and Asia, it returns temporarily as part of Nick's Non-Stop Play Weekend.
For a brief period, a spin-off series called The Patakis was planned. The premise was to focus on Helga Pataki in her teenage years, and her family.
The All 5 seasons are available on iTunes for download.
Canon
The canon of Hey Arnold includes:
Episodes
Film
In the 2002 theatrically released film, Arnold, Helga and Gerald set out on their quest to save their neighborhood from a greedy developer who plans on converting it into a huge shopping mall. This film featured the voice talents of Jennifer Jason Leigh, Paul Sorvino, and Christopher Lloyd.
Another planned movie is known as The Jungle Movie.
Characters
Main voice cast
VHS Tapes
The show had 6 VHS Tapes and those tapes were
Hey Arnold: Urban Adventures
Hey Arnold: Love Stinks
Hey Arnold: The Helga Stories
Hey Arnold: Partners
Hey Arnold: Arnold's Christmas
DVD Release
| Nick DVD name | Release date | Discs | Episodes |
| --- | --- | --- | --- |
| Season 1 (1996-97) | August 21, 2008 | 4 | 20 |
| Season 2, Part 2 (1997) | August 21, 2008 | 2 | 10 |
| Season 2, Part 2 (1997-98) | 2008 | 4 | 10 |
| Season 3 (1998) | 2009 | 3 | 14 |
| Season 4 (1998-2000) | 2010 | 2 | 18 |
| Season 5 (2000-04) | 2010 | 3 | 15 |
| Hey Arnold! The Complete Series (1996-2004) | 2014 | 16 | 100 |
Amazon.com released seasons 1 and 2 on DVD through its CreateSpace program in August 2008. The DVDs are sold as "burn on demand" items. Some episodes have also been released on iTunes.
See also
References
External links