Hey Arnold! The Complete Series is a 16-disc DVD set released at Walmart and Shout! Factory websites. It is a straight repackaging of the seasonal sets previously released by Shout!.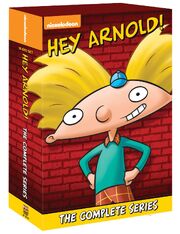 Trivia
In the episode list inside the case, the names of a few episodes are misspelled: Such as "Hookey" as "Hooky" (although the word can be spelled either way) and "Arnold's Halloween" as "Operation: Arnold's Halloween".
The German version of this DVD set, released by Turbine Classics, is superior to the barebones American version. It has all of the episodes in English and German (most in the original order) across 12 discs and features bonus content, such as the pilot.
Ad blocker interference detected!
Wikia is a free-to-use site that makes money from advertising. We have a modified experience for viewers using ad blockers

Wikia is not accessible if you've made further modifications. Remove the custom ad blocker rule(s) and the page will load as expected.