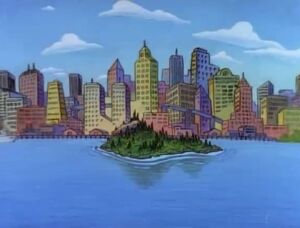 Hillwood City is the city where Arnold lives, and where most events of the show take place. According to a Craig Bartlett's interview it's an amalgam of large northwestern cities, including Seattle (his hometown), Portland (where he went to art school) and Brooklyn (the bridge, the brownstones, the subway).
Trivia
Elk Island, according to Gerald in the episode "Wheezin Ed", is located on the Skookumchuck River. The Skookumchuck River is located in Lewis and Thurston Counties in Washington State. Also in thie episode, Shena's uncle Earl mentions Ivar's Restaurant, a local seafood chain established in 1938. They are scattered throughout Washington State.
At the end of "Road Trip", Helga and Miriam are seen entering Washington State before the credit roll. Originally headed for South Dakota on a trip, this confirms that Hillwood is located somewhere in the Evergreen State. 
In "Veterans Day", Martin mentions that "the capital is only a day's drive from here.", though Phil says it's 18 hours, when Washington, D.C. is actually a 40 hour drive from Washington State, and a 3-4 hour drive from New York.
In several episodes that depict Phoebe's room, such as "Phoebe Skips", there is a poster that advertises "Tacoma Marine Park".  Tacoma is a city in Washington State located on Puget Sound, southwest of Seattle and northeast of Washington's capital, Olympia.  Additionally, Tacoma does have a Marine Park, although in real life, Marine Park is a recreational waterfront area rather than a marine wildlife park.