The main title sequence of the Hey Arnold! TV Series. It was animated by Toon-Us-In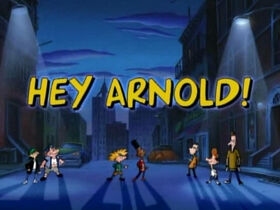 Animations Inc. and U.S. Animation.
Its duration is approximately 49 seconds. Starting with Season 4 the music for the intro was changed.
In Seasons 1 (1996-1998)-3 (1998-2000), the Yamaha DX7 internal factory patch "Sax BC" and Roland D-50 internal patch "Slap Bass n Brass" were heard in the intro.
In Seasons 4 (1998-2000)-5 (2000-2004), the Roland D-50 internal patches "Horn Section" and "Jazz Guitar Duo" and modified version of the Roland D-50 internal patch "Horn Section" were heard in the intro.
In the Arnold's Christmas intro, the Roland D-50 internal patch "Fantasia" was heard.
In some of the special episodes, the intro is omitted. The episodes that skip the intro are "Arnold's Christmas", "Arnold's Thanksgiving", "School Play", "Parents Day", "Dino Checks Out" and "The Journal".
Several dubs including the Russian dub have the characters (other than Helga) can actually be heard emitting various noises (no actual words).
This article needs expansion. But, with a little cultivation, it could become a virtual paradise. Won't you please help out an article in need? This template will categorize articles that include it into the Article stubs task category.
Ad blocker interference detected!
Wikia is a free-to-use site that makes money from advertising. We have a modified experience for viewers using ad blockers

Wikia is not accessible if you've made further modifications. Remove the custom ad blocker rule(s) and the page will load as expected.