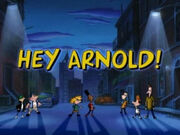 The main title sequence of the Hey Arnold! TV Series. It was animated by Toon-Us-In Animations Inc. and U.S. Animation.
Its duration is approximately 49 seconds. Starting with Season 4, the music for the intro was changed.
In some of the special episodes, the intro is omitted. The episodes that skip the intro are "Arnold's Christmas", "Arnold's Thanksgiving", "School Play", "Parents Day", "Dino Checks Out" and "The Journal".
This article is a stub. You can help Hey Arnold Wiki by expanding it.