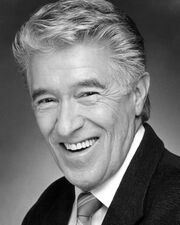 Jack Angel is an American actor and voice actor who provided the voice for Superintendant Chaplin. Some of his most notable roles include being one of the voices of Smokey Bear, Hawkman, Samurai, and The Flash on Super Friends, and it's many subsidiaries, Ramjet, Ultra Magnus, Cyclonus and more on Transformers (1985), Teddy in A.I. Artificial Intelligence, Liquidator on Darkwing Duck and for providing additional voices in many animated films (moslty Disney and Pixar films, most notably the Toy Story series, Finding Nemo and A Bug's Life).
Ad blocker interference detected!
Wikia is a free-to-use site that makes money from advertising. We have a modified experience for viewers using ad blockers

Wikia is not accessible if you've made further modifications. Remove the custom ad blocker rule(s) and the page will load as expected.