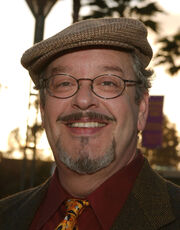 Joe Alaskey (April 17, 1952 - February 3, 2016) was an American actor who provided the voice for the German Major. He is best known as being among the sucessors of Mel Blanc at the Warner Bros. Animation Studios and voicing many of the Looney Tunes characters including Bugs Bunny, Daffy Duck, Porky Pig, Sylvester, Tweety, etc. Some of his other most notable roles include Grandpa Lou in Rugrats,  Plucky Duck in Tiny Toon Adventures, Duck Dodgers and Marvin the Martian in Duck Dodgers, President Nixon in Forest Gump, and Beano Froelich in Out of this World.
Voice Credits
Ad blocker interference detected!
Wikia is a free-to-use site that makes money from advertising. We have a modified experience for viewers using ad blockers

Wikia is not accessible if you've made further modifications. Remove the custom ad blocker rule(s) and the page will load as expected.