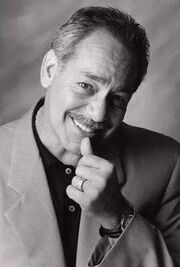 Joe Lala (November 3, 1947 - March 18, 2014) was an American actor and musician who was apart of Stephen Stills' band Manassas and co-founded the rock band Blues Image (who are best known for the song Ride Captain Ride) and was the voice of Miller in the episode Veterans Day. He has collaborated with many artists including Crosby, Stills, Nash & Young, Whitney Houston, Joe Walsh, Barbra Streisand and The Bee Gees. He died on March 18, 2014 from complications of lung cancer. He was one of three musicians who have appeared on the show the others being Lou Rawls and Davy Jones (both of whom are also now deceased).
Ad blocker interference detected!
Wikia is a free-to-use site that makes money from advertising. We have a modified experience for viewers using ad blockers

Wikia is not accessible if you've made further modifications. Remove the custom ad blocker rule(s) and the page will load as expected.