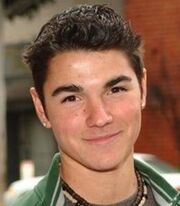 Joseph Ashton (1986) is a soccer coach, motocross racer, voice actor, and film actor from California. He is probably best known for having read the role of Otto on Rocket Power; in the early 2000s he starred as Billy in a live action remake of Where The Red Fern Grows.
On Hey Arnold!, Ashton was one of the voice actors who read the role of Iggy. He voiced the character in his two main roles.
Voice Credits
This article needs expansion. But, with a little cultivation, it could become a virtual paradise. Won't you please help out an article in need? This template will categorize articles that include it into the Article stubs task category.