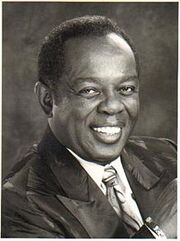 Lou Rawls (born December 1, 1933 - January 6, 2006) was an American singer, songwriter and actor who voiced Harvey the mailman in the series from seasons 1-4, along with the bus driver in "Downtown as Fruits" and Pop Daddy in "Chocolate Turtles," the latter of which was the last episode he did voice work for, he was also the most recurring guest star in the show. In his music career he released more than 60 albums and 40 million records and his most famous song is "You'll Never Find Another Love Like Mine" which reached #2 on the Billboard charts from 1976-77. Lou Rawls was seen singing the alphabet in the first season of Sesame Street and in several other animated series and films including Here Comes Garfield, The Proud Family, and The Rugrats Movie. He was also a panelist in John Davidson's Hollywood Squares. He passed away on Friday, January 6, 2006.
Ad blocker interference detected!
Wikia is a free-to-use site that makes money from advertising. We have a modified experience for viewers using ad blockers

Wikia is not accessible if you've made further modifications. Remove the custom ad blocker rule(s) and the page will load as expected.