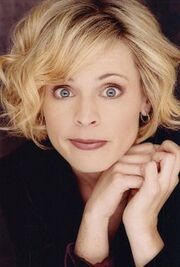 Maria Elizabeth Sheldon Bamford (September 3, 1970) is an American stand-up comedian, actress, and voice-acress who provided the voice for Mayor Dixie (in Stinky's Pumpkin and Arnold's Thanksgiving), Stinky's grandmother and Iggy's mother. Some of her best known roles include Slime Princess in Adventure Time, Shriek in CatDog, and Cheryl Smith in Second City Headlines & News.
Ad blocker interference detected!
Wikia is a free-to-use site that makes money from advertising. We have a modified experience for viewers using ad blockers

Wikia is not accessible if you've made further modifications. Remove the custom ad blocker rule(s) and the page will load as expected.