Ad blocker interference detected!
Wikia is a free-to-use site that makes money from advertising. We have a modified experience for viewers using ad blockers

Wikia is not accessible if you've made further modifications. Remove the custom ad blocker rule(s) and the page will load as expected.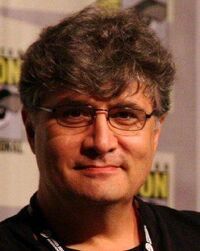 Maurice LaMarche (born March 30th, 1958) is a Canadian-born voice actor and former stand up comedian known for providing various voices on the animated series and movies, who provided the voice for Big Bob Pataki. He is best known as the Brain on both Animaniacs, and it's spin-off series Pinky and the Brain. He is also Egon in The Real Ghostbusters, and a lot of his best known voice work is on Futurama where he voices Kif Kroker, Morbo, Calculon, and many others.
Voice Credits
| # | Episode | Credits |
| --- | --- | --- |
| 9a | Roughin' It | Big Bob Pataki |
| 14a | Spelling Bee | Big Bob Pataki |
| 15a | Olga Comes Home | Big Bob Pataki |
| 16a | Abner Come Home | Abner the pig |
| 18a | Magic Show | Big Bob Pataki, TV interviewer |
| 19b | Runaway Float | Big Bob Pataki |
| 20 | Arnold's Christmas | Big Bob Pataki |
| 25 | Arnold's Valentine | Cecile's father, Jacques |
| 29a | Save the Tree | Big Bob Pataki, City Hall clerk |
| 31a | Monkey Business | Big Bob Pataki, Organ Grinder |
| 37b | Quantity Time | Bib Bob Pataki |
| 39a | Eugene Goes Bad | Abdicator, Director |
| 40 | Arnold's Halloween | Big Bob Pataki, Douglas Cain |
| 41a | The Aptitude Test | Big Bob Pataki |
| 43 | Stinky Goes Hollywood / Olga Gets Engaged | Big Bob Pataki, Stinky's father, Revis |
| 46b | Helga and the Nanny | Big Bob Pataki |
| 48b | Helga vs. Big Patty | Big Bob Pataki |
| 51a | Phoebe Takes the Fall | Big Bob Pataki, quiz moderator |
| 54b | Road Trip | Big Bob Pataki, mechanic |
| 56 | Arnold's Thanksgiving | Bib Bob Pataki, Uncle Chuck |
| 57a | Girl Trouble | Big Bob Pataki |
| 59 | School Play | Big Bob Pataki |
| 60 | Parents Day | Big Bob Pataki |
| 61b | Stinky's Pumpkin | Stinky's father, Stinky's grandfather |
| 62a | Dinner For Four | Jacques, policeman |
| 63b | Student Teacher | Big Bob Pataki |
| 65a | The Beeper Queen | Big Bob Pataki |
| 67a | Helga's Parrot | Big Bob Pataki |
| 69a | It Girl | Big Bob Pataki, Revis |
| 70a | Grudge Match | Big Bob Pataki |
| 78 | Helga on the Couch | Big Bob Pataki |
| 80 | Summer Love | Big Bob Pataki, policeman, TV director |
| 81 | Sid the Vampire Slayer / Big Sis | Big Bob Pataki, farmer, vampire, Dr. Vanderveen |
| 95b | Big Bob's Crisis | Big Bob Pataki, waiter, contestant on "The Wheel" |
| 96 | Married | Big Bob Pataki, loading dock supervisor |
| Film | Hey Arnold!: The Movie | Big Bob Pataki, head of security |
External links