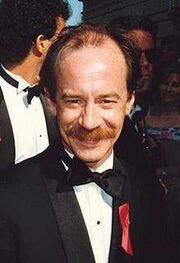 Michael Jeter (August 26, 1952 – March 30, 2003) was an American film, television and stage actor who provided the voice for Nate Horowitz in Hey Arnold!. He is best known for his roles as Herman Stiles on "Evening Shade," Mr. Noodle's brother Mr. Noodle in the Elmo's World segments on Sesame Street, Eduard Delacroix in the 1999 film adaptation of "The Green Mile," and Udesky in "Jurassic Park III."
He and Vincent Schiavelli (another Hey Arnold! guest star) were later talked about on the internet documentary "No Small Parts."
Ad blocker interference detected!
Wikia is a free-to-use site that makes money from advertising. We have a modified experience for viewers using ad blockers

Wikia is not accessible if you've made further modifications. Remove the custom ad blocker rule(s) and the page will load as expected.