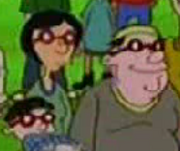 Mrs. Gammelthorpe is the mother of Curly, who was only seen in Parents Day. Her name is never mentioned.
Appears in
Trivia
In Curly's Girl, Curly said that she and her husband owns a dry cleaners.
This article is a stub. You can help Hey Arnold Wiki by expanding it.
Ad blocker interference detected!
Wikia is a free-to-use site that makes money from advertising. We have a modified experience for viewers using ad blockers

Wikia is not accessible if you've made further modifications. Remove the custom ad blocker rule(s) and the page will load as expected.