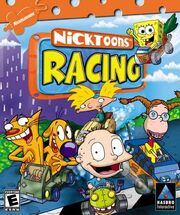 Nicktoons Racing
is a Nickelodeon crossover racing game for the Game Boy Color, PC, PlayStation, Game Boy Advance and Arcade
Gameplay
Nicktoons Racing focuses on engaging players in go-kart racing on various Nicktoons-themed tracks, similar to the Mario Kart series. The game features a wide selection of playable characters from various Nicktoons, including characters from SpongeBob SquarePants, Rugrats, The Ren & Stimpy Show, Aaahh!!! Real Monsters, Hey Arnold!, The Angry Beavers, CatDog, and The Wild Thornberrys.
Plot
Various Nickelodeon characters each receive a letter invitation to compete in a Grand Prix for the top prize, the Krusty Krab Big Bun Award. The host of the competition, also the individual who sent the invitations, is an unknown, unseen driver of a sleek, black car with a tinted dome window simply dubbed as the Mystery Rider, which the participating racers are challenged to beat, as well as each other.
Playable Characters
From Rugrats:
Tommy Pickles: A small baby with a big heart who loves to have adventures with his friends. He drives the Reptar Wagon.
Phil and Lil DeVille: Tommy's two eating worm twins. They drive a worm car.
Angelica Pickles: Tommy's bratty cousin who makes fun of him and his friends. She drives her Cynthia car.
From Hey Arnold!:
Arnold: A bold foootball-headed kid who tries to solve problems of every day life. He drives a cardboard soapbox kart.
Helga Geraldine Pataki: A girl who picks on Arnold but is secretly in love with him. Like Arnold, she drives a cardboard soapbox kart.
From The Wild Thornberrys:
Eliza Thornberry: A girl with the ability to talk to animals. She drives a miniature version of her family's Comvee.
Darwin: A chimp who is also Eliza's best friend. He drives a jungle Jeep.
Donnie Thornberry: A wild boy who eats bees and is Eliza's adopted brother. He drives a bee bike.
From CatDog:
From The Angry Beavers:
From Aaahh!!! Real Monsters:
Ickis: A cowardly, rabbit eared monster with the great ability of looming. He drives a beetle-shaped car. He does not appear in the GBC version.
From The Ren and Stimpy Show:
Stimpy: A dimwitted feline with a passion for Gritty Kitty,
pre-chewed gum, and his pal, Ren Hoek. He drives a litter box. He does not appear in the GBC version.
Ren Hoek: A chihuahua with anger issues and the brains of the duo. He drives a couch car.
From SpongeBob SquarePants:
Reception
The PlayStation game was not reviewed on IGN, while the Game Boy Color version seemed mixed or negative with a 3.0/10 from IGN.[2] The Game Boy Advance edition received an 8.0/10 on IGN.[3]
Ad blocker interference detected!
Wikia is a free-to-use site that makes money from advertising. We have a modified experience for viewers using ad blockers

Wikia is not accessible if you've made further modifications. Remove the custom ad blocker rule(s) and the page will load as expected.