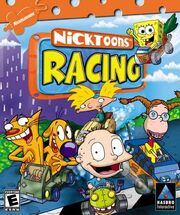 Nicktoons Racing
is a Nickelodeon crossover racing game for the Game Boy Color, PC, PlayStation, Game Boy Advance and Arcade
Gameplay
Nicktoons Racing focuses on engaging players in go-kart racing on various Nicktoons-themed tracks, similar to the Mario Kart series. The game features a wide selection of playable characters from various Nicktoons, including characters from SpongeBob SquarePants, Rugrats, The Ren & Stimpy Show, Aaahh!!! Real Monsters, Hey Arnold!, The Angry Beavers, CatDog, and The Wild Thornberrys.
Plot
Various Nickelodeon characters each receive a letter invitation to compete in a Grand Prix for the top prize, the Krusty Krab Big Bun Award. The host of the competition, also the individual who sent the invitations, is an unknown, unseen driver of a sleek, black car with a tinted dome window simply dubbed as the Mystery Rider, which the participating racers are challenged to beat, as well as each other.
Playable Characters
From Rugrats:
From Hey Arnold!:
From The Wild Thornberrys:
From CatDog:
From The Angry Beavers:
together in a little log, but in the GBC version, they drive separately and their names are labeled vice versa.
From Aaahh!!! Real Monsters:
From The Ren and Stimpy Show:
pre-chewed gum, and his pal, Ren Hoek. He drives a litter box. He does not appear in the GBC version.
From SpongeBob SquarePants:
the Krusty Krab and his pet snail, Gary. He drives a car that resembles his pineapple house.
Reception
The PlayStation game was not reviewed on IGN, while the Game Boy Color version seemed mixed or negative with a 3.0/10 from IGN.[2] The Game Boy Advance edition received an 8.0/10 on IGN.[3]