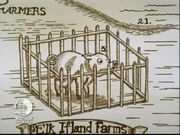 The Pig War was a real life confrontation in 1859 between the United States and the British Empire over the boundary between the US and British North America. The territory in dispute was the San Juan Islands, which lie between Vancouver Island and the North American mainland. The Pig War, so called because it was triggered by the shooting of a pig, is also called the Pig Episode, the Pig and Potato War, the San Juan Boundary Dispute or the Northwestern Boundary Dispute. With no human casualties, this dispute was a bloodless conflict.
According to the episode "The Pig War" the Brits and the Americans fought for control over Elk Island, and the event is annually re-anacted in Hillwood.
Ad blocker interference detected!
Wikia is a free-to-use site that makes money from advertising. We have a modified experience for viewers using ad blockers

Wikia is not accessible if you've made further modifications. Remove the custom ad blocker rule(s) and the page will load as expected.