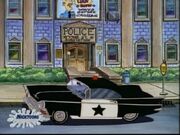 Police Precinct 2 is the local police station in Arnold's neighborhood in Hillwood. Folks call it "Vine Street substation". They never take the kids that come to their station seriously, usually loudly laughing off any "crime" they may report. However they'll accept calls from adults without a problem. On one occasion they went a bit overboard trying to get a cat back for its elderly owner in the episode "Harold's Kitty". They also tend to confuse kids in costumes for full grown criminal adults that look like them.
Ad blocker interference detected!
Wikia is a free-to-use site that makes money from advertising. We have a modified experience for viewers using ad blockers

Wikia is not accessible if you've made further modifications. Remove the custom ad blocker rule(s) and the page will load as expected.