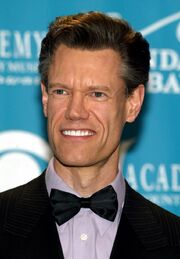 Randy Travis (born May 4, 1959) is an American country and gospel singer-songwriter. Since 1985, he has recorded 20 studio albums and has charted more than 50 singles and 16 number-ones on the Billboard Hot-Country Songs charts. He has sold over 25 million records and is considered one of the most pivotal country singers. In 2016, he was inducted into the Country Music Hall of Fame. He was the singing voice of Mr. Hyunh and was the voice of Travis Randall in the episode "Mr. Hyunh Goes Country".
Ad blocker interference detected!
Wikia is a free-to-use site that makes money from advertising. We have a modified experience for viewers using ad blockers

Wikia is not accessible if you've made further modifications. Remove the custom ad blocker rule(s) and the page will load as expected.