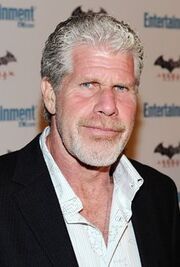 Ron Perlman  is an American actor who provided the voice for Mickey Kaline. His best known roles include the titular main character in Hellboy and its sequel, Slade in Teen Titans, Clay Morrow in Sons of Anarchy, Corin the Blacksmith in the 2011 remake of Conan the Barbarian, the narrator of the post-apocalyptic video game series Fallout, and the black comedy and anthology docufiction 1,000 Ways to Die. He also played Vincent in the TV drama Beauty and The Beast, for which he received a Golden Globe. 
Ad blocker interference detected!
Wikia is a free-to-use site that makes money from advertising. We have a modified experience for viewers using ad blockers

Wikia is not accessible if you've made further modifications. Remove the custom ad blocker rule(s) and the page will load as expected.