Sherm
, or 
"Slick"
, is a fictional character in the
Hey Arnold!
TV Series.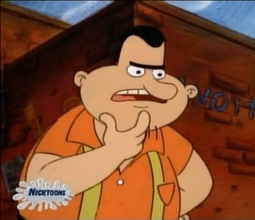 Sherm is a butcher who's hair is slicked back, prompting Arnold and Gerald to give him the nickname "Slick".  He and Dan "Porkpie" covertly prepare a surprise birthday party for their fellow butcher and friend Marty Green.  However, Arnold and Gerald misinterpret their actions as malevolent, causing them to follow and film the butchers during their discussions and planning of the party.
Sherm also claims to live in his car, though it's possible that this is just a figure of speech.
Sherm is possibly named after Sherm Cohen, a storyboard artist and director for the show.
His only appearance in the series was in the episode "Freeze Frame".
Ad blocker interference detected!
Wikia is a free-to-use site that makes money from advertising. We have a modified experience for viewers using ad blockers

Wikia is not accessible if you've made further modifications. Remove the custom ad blocker rule(s) and the page will load as expected.