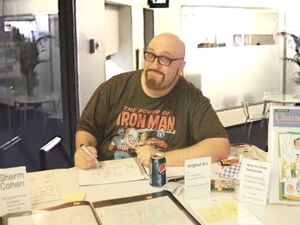 Paul Sherman "Sherm" Cohen is a storyboard artist and director on Hey Arnold!. He worked on the series from 1995 until 1998. He left the show when he was invited to be part of the SpongeBob SquarePants crew.
Credits
Season 1
Season 2
Season 3
Season 4
Season 5
External Links
Ad blocker interference detected!
Wikia is a free-to-use site that makes money from advertising. We have a modified experience for viewers using ad blockers

Wikia is not accessible if you've made further modifications. Remove the custom ad blocker rule(s) and the page will load as expected.