Before, during or after Hey Arnold!'s lifespan, other animated television shows sprang up featuring groups of kids having adventures or getting into trouble. The show's formats were similar but with obvious differences in presentation and style. Episodes of many of these shows (at least those originating in North America) were written, directed, produced, or otherwise brought about by many of the same people. Some were successful and others didn't make it past one season, but they still are admired by many and have their own fan bases.
All Grown Up!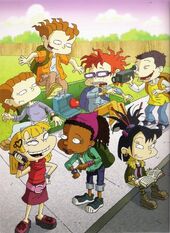 All Grown Up! is an American animated television series created by Arlene Klasky and Gábor Csupó, and is a spin-off show from the original TV series The Rugrats.
After the success of All Growed Up, the Rugrats 10th anniversary special, Nickelodeon commissioned All Grown Up! as a spin-off series based on the episode. The series ran from April 12, 2003 to August 17, 2008, and currently airs in reruns on Nickelodeon and Nicktoons.
The show's premise is that the characters of the Rugrats are nine years older. Tommy, Dil, Chuckie, Phil, Lil, Kimi, Angelica and Susie now have to deal with teen and pre-teen issues and situations. It was the first Nicktoon spin-off.
Production of the show began in September 2002. During summer 2003, teasers for All Grown Up aired. However, the scenes shown were not clips from actual episodes of the show.
The show began on April 12, 2003 as a preview before starting its regular run in late November 2003. When the series did start its regular run, more than 3.2 million viewers tuned in, enough to put it into the 2nd place slot for the week (behind an NFL game on ESPN) and making it the highest-rated premiere in Nickelodeon's history at the time. (The April sneak peek didn't make the top 15 cable programs for that week, due to the ongoing war in Iraq.) It aired on Nick and CBS on March 13, 2004 and ended on September 11, 2004. The original titles for this series were All Growed Up! and Rugrats: All Growed Up!.
In addition, in its first season, All Grown Up! had its first and only celebrity guest star: Lil Romeo as "Lil Q" (Cupid) in episode 11, "It's Cupid, Stupid". Lil Romeo also did the ending credits for Hey Arnold!: The Movie but never appeared as a character.
In early 2007, All Grown Up! was removed from the Nickelodeon schedule in the United States. Although it later returned, no new episodes have been produced since 2006. The show premiered on Nicktoons on July 6, 2008. Nickelodeon UK aired all 55 episodes before the end of 2006. However, Nickelodeon in the United States didn't air all the episodes until 2008. Nickelodeon US aired most of the final season of All Grown Up! November 12, 2007 through November 30, 2007. The final three episodes aired on August 3, 10, and 17, 2008.
Arthur
Arthur is an animated educational television series for children, created by the Cookie Jar Group (formerly known as Cinar) and WGBH for the Public Broadcasting Service (PBS). The show is set in the fictional American city of Elwood City, and revolves around the lives of 8-year-old Arthur Read, an anthropomorphic aardvark, his friends and family, and their daily interactions with each other. There is a strong emphasis on the educational value of books and libraries as well as relationships with friends and family members. The series is often noted for dealing with social and health-related issues that affect young children, such as the death of a pet, dyslexia, Asperger syndrome, Alzheimer's disease and more recently cancer.
The television series is based on the Arthur book series, which are written and illustrated by Marc Brown. WGBH Boston along with Cinar (now Cookie Jar Group) began production of the animated series in 1994, and aired its first episode on September 2, 1996. Since its debut, the show has broadcast 344 full and mini episodes in 30-minute long episodes, and has recently finished its 14th season.
Arthur became one of the highest-rated shows on PBS Kids for several years since its debut, averaging almost 10 million viewers weekly in the U.S. It is aired in a total of 83 countries.
A pilot for the spin-off series Postcards from Buster aired on December 2003 as a Season 8 episode of Arthur. Postcards From Buster aired from October 11, 2004 to November 21, 2008.
As Told by Ginger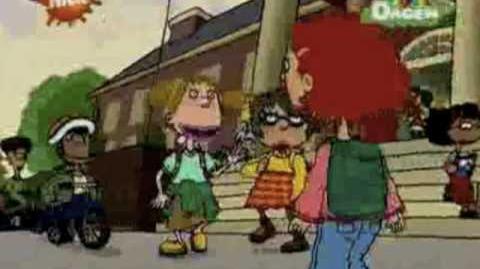 As Told by Ginger or sometimes commonly referred to as Ginger is an American teen drama animated series that was produced by Klasky-Csupo and aired on Nickelodeon and the Nicktoons Network. The series focuses on a middle schooler (and later high schooler) Ginger Foutley who with her friends try to become more than a social geek. There are many subplots that focus on Carl Foutley, Ginger's brother and Ginger's mother Lois. The series was noted for its story lines, character development and the fact that the characters change outfits each time a new day comes.
The show focuses mainly on the life of junior high school student Ginger Foutley. She, along with her friends, Darren Patterson, Dodie Bishop and Macie Lightfoot, all try to rise from the position of school geeks as they solve many conflicts that come their way. Luckily for Ginger, the most popular girl in school, Courtney Gripling, has taken a liking to her and often includes her in her social plans.
She is intrigued by her 'gingerisms', as Courtney calls them. However, Miranda Killgallen, Courtney's right hand woman, makes sure that she is not bumped down from her position thanks to Ginger. At home, Ginger records her lively adventures in her diary.
Her little brother Carl, is often scheming with Robert-Joseph ("Hoodsey") Bishop in his own side plots, and her mother, Lois, is always there for advice Ginger is always open to listen to. The series takes place in the fictional town of Sheltered Shrubs, located in Connecticut.
It is very rare for a children's program, especially an animated one, to be set in a specific area of the country. Sheltered Shrubs is actually based on the real town of Larchmont, New York. Other towns noted in the series are Protected Pines, a gated community in which Courtney lives, Brittle Branches, where Ginger's father resides, and Heathered Hills, the town of Ginger's summer camp crush, Sasha.
The show started later than Hey Arnold! in 1999 but outlasted the show until 2009. It was a huge success with three Emmy nominations and named "Best Cartoon" at the Dutch Nickelodeon Kids Choice Awards in 2005.
ChalkZone
ChalkZone is an American animated television series created by Bill Burnett and Larry Huber and produced by Frederator Studios for Nickelodeon. The series follows Rudy Tabootie, an elementary school student whose magic chalk allows him to ChalkZone, an alternate dimension where everything drawn on a blackboard and erased becomes real. The show concentrates on the adventures of Rudy, his sidekick Snap, and classmate Penny Sanchez within the zone.
ChalkZone originally aired as part of Fred Seibert's Oh Yeah! Cartoons animated shorts showcase in 1998. The series ran on Nickelodeon from March 22, 2002 to August 23, 2008, with 42 episodes in total, although the last two episodes remained unaired. It was distributed outside the United States by Canadian company Nelvana.
Dennis and Gnasher
Dennis and Gnasher is a British animated television series based on characters from The Beano comic.
Originally called Dennis the Menace in the United Kingdom, the series was renamed Dennis and Gnasher for international broadcast, to avoid confusion with the American Dennis The Menace.
Dennis the Menace and Gnasher (1996 TV Series)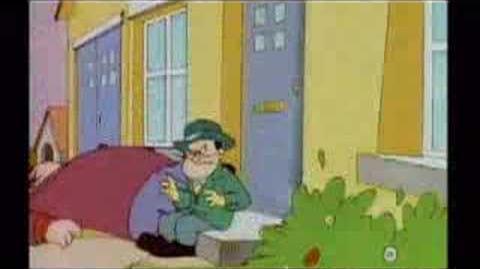 Dennis the Menace and Gnasher was the first series that ran from 1996 - 1998 and was produced by Collingwood O'Hare and Beano Productions. Also in association with Flextech, Polygram and BBC Television, distributed by HiT Entertainment worldwide, and was directed and largely written by Tony Collingwood.
The main character is Dennis, a troublemaker and mischievous young child. While most of his mischief is for fun, sometimes it can cause serious problems, or even help others. Dennis' antics have caused him to gain multiple enemies including his next door neighbour Walter, the Colonel, and Sergeant Slipper. Dennis has saved the world on one occasion, and appeared on the CBBC show Blue Peter after winning an art competition.
Dennis has a dog called Gnasher. He is Dennis's "partner in crime" twenty-four hours a day, seven days a week—together they are the proverbial "two peas in a pod". When Gnasher is not by Dennis's side, like during school hours (though he does follow Dennis to school in the mornings), he'll have taken up his vigil, hiding in the front garden, ready and waiting to ambush the postman as he attempts to deliver the mail on Gnasher's watch. Gnasher possesses a set of teeth that are capable of chewing through almost anything, hence his name. His favourite food is bones, and his favourite dog toy is his squeaky bone. Dennis feeds Gnasher his homework rather than actually do the homework.
Other characters include his family (Dennis' Mum, Dad and Grandma) and his friends Curly (no relation to Hey Arnold!'s Curly) and Kevin "Pie-Face".
Dennis and Gnasher (2009 TV Series)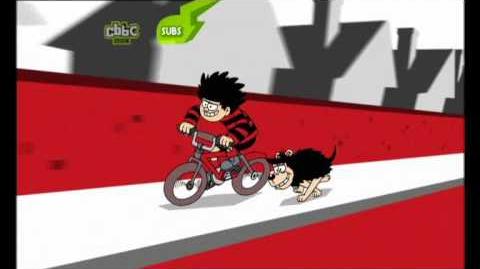 Dennis and Gnasher
is the current version of the show that was created at Red Kite's Scottish animation studios as well as Sticky Pictures in Australia. The animation is directed by Glenn Kirkpatrick with Donna Andrews as producer (Sticky Pictures) alongside Jane Schneider and Sue Smith (Red Kite).
As of 2010, the series consists of 52 11-minute segments and is still running today.
The new series features the return of Dennis, Gnasher, Mum, Dad, Curly and Pie-Face and also features the introduction of Dennis' little sister Bea, as well as several original characters like Athena. The production shots also showed Dennis' treehouse with a more menacing design.
A number of changes have been made to the original format compared to the comics and previous television series. As well as being updated and modernised, Dennis loses his catapult and peashooter and no longer deliberately causes trouble. In addition Walter, Dennis main rival, is more masculine differing from his previous "girly" character.
Fans of the comic, and of the original show, had complained it has been toned down for reasons of political correctness. However, the producers have stated that Dennis hasn't not lost "his sense of fun". Cartoonist, Lew Stringer, had refuted on his blog the political correctness claims made by some areas of the media. Describing these claims as "another 'political correctness gone mad' myth embellished by the media", he has posted videos showing that the show has not been softened up to the extent that the media has reported.
Doug
Doug is an American animated sitcom that was created by Jim Jinkins and produced by Jumbo Pictures for the Nickelodeon network, as the first of their successful line of Nicktoons. Later on, the series was then produced for Disney for airing on ABC's One Saturday Morning block. The series takes place in the fictitious town of Bluffington (where Doug Funnie and his family had moved from Bloatsburg) and deals with the life of the title character, grade-schooler and diarist Doug Funnie.
Nickelodeon's Doug
Doug premiered on Nickelodeon on August 11, 1991, where it continued until December 16, 1994, and was aired in reruns until 2003, being the first Nicktoon. As of 2009, Nickelodeon's Doug airs reruns on MTV Tr3́s affiliates KBEH and KMOH-TV (as an E/I program) in the US and on Nicktoons in the UK.
In the first episode, Douglas Yancey Funnie and his family (Phil, Theda and sister Judy) arrive in a new town called Bluffington after moving away from their former residence in Bloatsburg. There, he meets Skeeter, Patti, Roger and Beebe, and his new life in a new town begins.
John Kricfalusi, the creator of The Ren & Stimpy Show, stated on a DVD commentary for his show that among the three original Nicktoons (Rugrats being the other one), Nickelodeon was banking on Doug to be its major hit. This, however, was not the case; Rugrats would go on to be the biggest hit of the three original Nicktoons, going on to have the longest run of any Nicktoon to date and still airing on the channel as of 2011, whereas Doug (in its Nickelodeon incarnation) had the shortest run of the three.
During the course of the show, it has won two Kids' Choice Awards (one in 1992 and one in 1995). Reruns of Nickelodeon's Doug began airing on TeenNick on July 25, 2011 as part of a newly-created block airing Nickelodeon's programming from the 1990s called The '90s Are All That.
Disney's Doug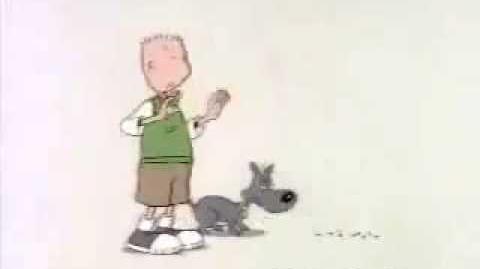 In 1996, Disney ordered new episodes of Doug to be produced for the Disney Channel. The show was renamed Brand Spanking New! Doug (then later Disney's Doug) and was in production from 1996 to 1999.
Several differences between the original and Disney versions exist. The Disney episodes featured a new theme song and added a younger sister, named Cleopatra Dirtbike Funnie, into the Funnie family. Perhaps to account for time, Doug's age was changed to 12½ years old. Several other minor character changes were added, including a new haircut and a darkened skin tone for Patti Mayonnaise, and Connie Benge changed from a fat to a thin character. Less noticeable than Patti's new hairdo was the change in Doug's haircut, due to trademark considerations. The original Doug has eight hairs; Disney's Doug has nine. Other changes include Roger Klotz becoming rich, having lived poorly in a trailer park previously, the closing of the Honker Burger (a parody of the real-life In-N-Out Burger, though this would, however, be replaced by Swirly's), Mrs. Dink becoming the mayor, and the Beets (a loose parody of The Beatles) breaking up. Skeeter's clothing changed, too - the lightning bolt on his shirt became a zero, and the colors of his clothes changed. Plus the often mentioned but never seen Skunky Beaumont becomes a prominent character.
Additionally, a theatrical feature-length film, Doug's 1st Movie was released on March 26, 1999, before production on the television show ceased.
During the course of the show, Doug was nominated for at least two Daytime Emmy Awards.
In the Disney version, every episode was a full-length episode of about 22 minutes, split into three segments. In the Nick version, most episodes were composed of two 11-minute segments. The only exceptions are the pilot, Christmas, and Halloween episodes, which were full-length episodes split into two segments.
Billy West, the original voice actor of Doug and Roger from the Nickelodeon version, has stated that he did not like the Disney version, and that he "couldn't watch" the show.
Fillmore!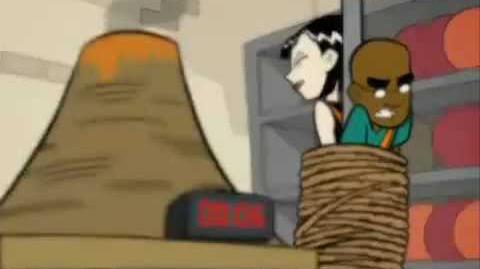 Fillmore! is an American animated television series which was produced by Walt Disney Television Animation. The series was created by Scott Gimple. It was the last series produced by Walt Disney Television Animation alone, without association with Disney Channel.
The show was created by Scott Gimple, directed by Christian Roman and premiered on the ABC Kids block on ABC on September 14, 2002.
The theme music for the show was written and performed by filk band Ookla the Mok and appears on their album Super Secret as the intro to the song "Das Über Tüber, or the Mystery of Mr. P." The announcer of the series was longtime voiceover actor Don LaFontaine.
The show stars Cornelius Fillmore (voiced by Orlando Brown) a juvenile delinquent with a record was caught raiding the school's new chalk shipment. He was arrested and given a choice by the safety patrol officer who caught him, either help him solve another case or spend the rest of middle school in detention. Fillmore decided to help out and he eventually decided to join up with the safety patrol. The show is based around him and his partner Ingrid Third (voiced by Tara Strong) at X Middle School. The show's format parodies that of hard-boiled police dramas. X's safety patrol is much more actively involved in student behavior than a typical school's safety patrol, and officers often seem to spend more time patrolling than actually attending class (in fact not a single episode shows a member of the Safety Patrol even attending class). As part of the Safety Patrol at X Middle School, Fillmore and Third solve crimes. The series usually presents child-friendly versions of common crimes, such as stolen scooters instead of cars, smuggling tartar sauce instead of drug smuggling, and holding illegal frog races instead of illegal street races.
Every character is named after a street in San Francisco, which is most likely a reference to another TV crime drama, The Streets of San Francisco.
The last new episode aired on January 23, 2004, but the series continued to air on the American television lineup ABC Kids and the Canadian Family Channel. The show has also aired on Toon Disney and internationally on multiple versions of Disney Channel. It has aired on the Arabic version of Disney Channel and is currently airing on MBC 3 as part of its morning Disney On 3 slot. It currently airs on Disney Channel in the United Kingdom on weekdays at 10:20pm GMT. It returned to American broadcast on Disney XD on March 17, 2009 and airs there occasionally, although isn't part of the channel's regular schedule.
Jacob Two-Two
Jacob Two-Two is a Canadian animated TV series based on a trilogy of books written by Mordecai Richler that first aired on Canadian children's channel YTV and aired on the French Canadian VRAK.TV as Jacob Jacob,in Spanish on Telemundo as Jacob Dos Dos and in Portuguese on Canal Panda from Portugal as Jacob Dois Dois. It also aired on ZigZag in the Poland and on Canal Futura from Brazil as Jaco Dois Dois. It was produced by Nelvana; before being put on hiatus in 2005, it has 61 episodes. The show also aired on Cartoon Network in the US from 2003-2005 and Qubo from 2006-present. It also aired on Jetix UK from April 14, 2007 and on CITV in the UK from Spring 2006.
The series is set in the Canadian city of Montrael and follows Jacob Two-Two and his friends on their wild adventures, most of which are one-shots that are resolved in a single episode.
Lloyd In Space
Lloyd In Space is an animated television series, created by Joe Ansolabehere and Paul Germain (creators of Recess), and released in 2001 on ABC-TV Saturday mornings.
The pilot was written by Ansolabehere, Germain and Mark Drop. The characters were designed by Eric Keyes.
Mona the Vampire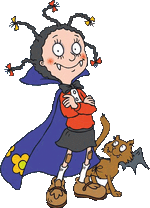 Mona the Vampire was an animated children's television show based on the series Robyn le Vampire, directed by Louis Piche and Jean Caillon, originally based on the short stories created and written Sonia Holleyman and later written by Hiawyn Oram. The show was produced in Montreal, Canada by Cinar (now Cookie Jar Entertainment), in association with Alphanim.
The show featured Mona, the show's main protagonist. A young girl with a vivid imagination. She believes her hometown is overrun with supernatural monsters and she plans to stop them all and save the town on a daily basis.
Her alter ego, Mona the Vampire has a "vampire sense" which tingles every time there is something foul in the air. Together with her two friends Princess Giant and Zapman, they solve some unlikely mysteries.
She dislikes cleaning her bedroom and would rather be battling her arch nemesis, Von Kreepsula.
Mona has a cat named Fang, who is her trusted sidekick.
The show lasted 5 seasons and ran between 1999-2003.
It was mainly shown on YTV, Radio-Canada, Vrak.TV and Canal a Moi (Canada), CBBC (Great Britain) and the Cartoon Network (Poland)..
Pelswick
Pelswick is an animated television series produced by Nelvana for CBC Television in Canada and Nickelodeon in the United States. The series is about a teenage boy who uses a wheelchair, emphasized how he lived a normal life and was based on the books by John Callahan.
It aired during Nick on CBS on September 14, 2002, then ended in November in the same year.
Pepper Ann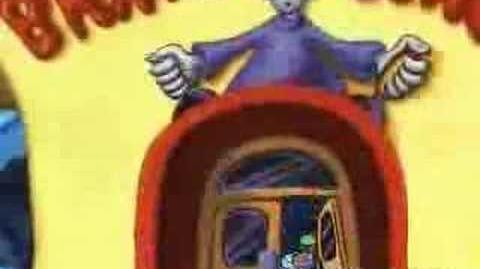 Pepper Ann is an animated series created by Sue Rose and shown in the United States and Canada on ABC.
The show starred cartoon adolescents and charted their ups and downs at Hazelnut Middle School. It aired as part of the Disney's One Saturday Morning block. Sue Rose originally pitched the series to Nickelodeon.
The show centers on the title character, a 12-year-old girl whose emotions come out in fantasies. The show was designed to be a "different sort" of girl's cartoon, and features many strong-willed female characters who aggressively reject the idea of passive femininity.
Pepper Ann's best friends are Milo Kamalani, a very eccentric, highly dramatic artist; and Nicky Little, a soft-spoken, overachieving aspiring violinist. Other fellow students at Hazelnut Middle School include rich and spoiled Trinket, German boy Dieter Liederhosen, popular airhead Cissy, gossipy twins Tessa and Vanessa, Nicky's boyfriend, the RC car-racing "nerd" Stewart Walldinger, and the cool 8th-grader, Craig Bean. Pepper Ann has no real enemies except Principal Hickey, a tough disciplinarian with zero tolerance for Pepper Ann's shenanigans, Wayne Macabre, an annoying radio DJ, and Alice Kane, an uppity snob who refers to her as "P. Ann". As well, Pepper Ann usually receives advice from her conscience in the form of her reflection. She gets into mild vocal quarrels with her reflection and her feminist mother, Lydia Pearson, although Lydia usually gives the moral at the end. Pepper Ann's father is seen only in a few episodes in his entirety. We know, however, that he was English, and divorced Lydia (although the two remain on good terms) when the girls were young. Lydia, in turn, embraces her divorcee, single-mom identity with great gusto, and encourages Pepper Ann to be as proudly independent as she is, although she does keep a curfew on Pepper Ann. Further support is given by Lydia's sister, Janie Diggety, an ex-Green Beret, and Pepper Ann's tomboyish deep-voiced younger sister, Moose.
The show's plots were generally typical of the developing format that has risen out of federal E/I requirements: Pepper Ann is presented with a moral dilemma, chooses the wrong decision, faces the consequences and learns a moral lesson. The series was mostly rated TV-Y. However, the Season 1 finale, "In Support of," raised controversy. In the episode, Pepper Ann is told she would need "support" to jump on the trampoline. Thinking the teacher meant "breast support," a paranoid, still flat-chested and seemingly unready Pepper Ann is convinced she now needs a bra. When at the trampoline, and asked where her "support" was, Pepper Ann flashes the class, (her bra) although it is only seen in shadow. (The gag is that by "support," the instructor meant a "support buddy.") That episode was rated TV-Y7.
At the end of the opening sequence, she always finds something different under her desk (similar to The Simpsons' couch gag), such as a mood ring or maracas (also the letter Q, a glowing green stick, a singing Dieter doll, Mardi Gras beads, and her [Pepper Ann's] remote control.) ; in season one, she always finds "five bucks".
One of the original segments of "One Saturday Morning", Pepper Ann was a hit with audiences. Pepper Ann was formerly shown on Toon Disney.
Phineas and Ferb
Phineas and Ferb is an American animated comedy-musical television series. Originally broadcast as a preview on August 21, 2007, and officially premiered on February 1, 2008 on Disney Channel, the series follows Phineas Flynn and Ferb Fletcher on summer vacation. Every day, the boys embark on some grand new project, which annoys their sister, Candace, who frequently tries to reveal their shenanagians to the boys' mother, Linda Flynn-Fletcher, and less frequently to their father, Lawrence Fletcher. The series follows a standard plot system; running gags occur every episode, and the B-Plot almost always features Perry the Platypus working as a spy ("Agent P") for the OWCA (Organization Without a Cool Acronym), to fight an evil scientist named Dr. Heinz Doofenshmirtz. However, Dr. Doofenshmirtz, or Doof as he refers to himself, feels the need to assert his evilness. Sometimes, other villains scoff at his level of evil. The two plots intersact at the end to erase all traces of the boys' project just before Candace can show it to their mother. This usually leaves Candace very frustrated.
Creators Dan Povenmire (who worked on Hey Arnold!) and Jeff "Swampy" Marsh worked together on the Fox series The Simpsons and Nickelodeon series Rocko's Modern Life. The creators also voice two of the main B-Plot characters: Major Monogram and Dr. Doofenshmirtz. Phineas and Ferb was conceieved after Povenmire sketched a triangular boy-the blueprint for the eponymous Phineas-in a resturant. Povenmire and Marsh developed the series and pitched to networks for 16 years before securing a run on Disney Channel.
Recess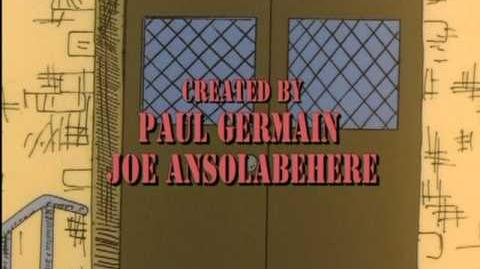 Recess is an American animated television series that was created by Paul Germain and Joe Ansolabehere, and produced by Walt Disney Television Animation. The series focuses on six elementary school students and their interaction with other classmates and teachers.
Recess portrays the lives of six fourth graders as they go about their daily lives in a highly clichéd school environment. The students of Third Street School have set up a microcosm of traditional human society complete with its own government, class system, and set of unwritten laws. They are ruled by a monarch, King Bob, who has various enforcers to make sure his decrees are carried out. The little society has a long list of rigid values andsocial norms that imposes a high expectation of conformity upon all the students.
Recess is illustrated to be a symbol of freedom—a time when the kids can express themselves and develop meaningful relationships. Most episodes involve one or more of the main six characters seeking a rational balance between individuality and social order. They are often defending their freedom against perceived threats by adults or social norms. The group's leader, T.J. Detweiler, tends to have the most complete vision of this struggle, though even he has times when he inadvertently leads the group too far toward an extreme of conformity or nonconformity.
The show shares several voice actors with Hey Arnold!: Toran Caudell (Arnold) voices King Bob, Anndi McAfee (Phoebe) voices Ashley A., Francesca Smith (Helga) voices Ashley B., Kath Soucie (Miriam) voices Butch and Tress MacNeille (Grandma Pookie) voices one of the Lunchladies.
Rocket Power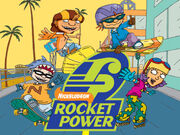 Rocket Power was a cartoon from the United States that aired from August 16, 1999 until August 15, 2006 on Nickelodeon. It is the thirteenth Nicktoon overall. It can now be seen weekdays at 4:30 A.M EST on Nicktoons Network, and on Sunday mornings at 6:00 A.M. EST on Nickelodeon.
The show is about four friends who are addicted to action and extreme sports. It involves the daily situations of a group of best friends named Otto Rocket, Regina "Reggie" Rocket, Twister, and Sam also known as "The Squid" as they live in the fictional town of Ocean Shores, California, a beach front city based on Oceanside, California.
Otto Rocket, his sister Reggie, and their pals Twister and Sam excel at just about every aggressive sport you can imagine. Their hometown of Ocean Shores, CA is the ultimate place for a game of hockey, skating the half-pipe or rollerblading on the boardwalk. All that competition can get pretty competitive sometimes.
The characters often take part in a variety of sports and activities including surfing, rollerblading, impending doom, snowboarding, skateboarding, street hockey, and street luge.
Joseph Ashton, who read the role of the main character Otto, had earlier voiced Iggy on Hey Arnold!.
The show has gained a very large cult following in the years after its original broadcast.
Other projects related to Rocket Power and developed under the aegis of Klasky-Csupo and/or Nickelodeon have included video games like Beach Bandits, and Maximum Rocket Power Live: The Battle for Madtown Park, a live-action extreme-sports dramatic arena play that briefly toured the U.S. Midwest in spring 2002, before being canceled over low ticket sales (it had originally been scheduled to tour about 40 cities all over the U.S., all the way into the fall).
The Proud Family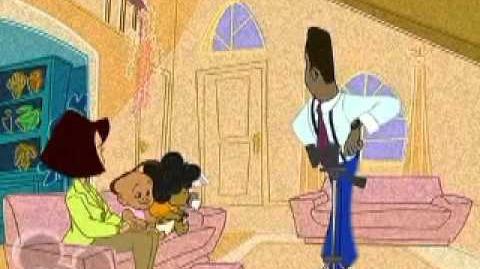 The Proud Family is an American animated television series that aired on Disney Channel from September 15, 2001 to August 19, 2005.
Created by Bruce W. Smith and was produced by his studio, Jambalaya Studios, it was originally piloted for Nickelodeon, it was eventually picked up by the Disney Channel in September 2001. Many of the later episodes of The Proud Family were produced using Macromedia Flash. It was first broadcast in the United States on Disney Channel on September 15, 2001 (it still airs there early weekday mornings), and was later aired on Toon Disney until February 2009. It has also broadcast on The Family Channel in Canada. Disney Channel admits that it will not air the new seasons of The Proud Family. The show was the first Disney animated show which didn't premiere on network/over-the-air television, which had been done since 1985 when the Television Animation unit was started.
The show mainly focuses around Penny Proud (voiced by Kyla Pratt), a 14-year-old who is usually embarrassed by the way her over-protective father, Oscar. She has a loving mother, Trudy, little brother Cece and sister Bebe, and hard-core grandmother Suga Mama. She sometimes listens to and always respects her parents, but often caves in to peer pressure.
She enjoys hanging out with her friends Dijonay, Sticky, Zoey, and LaCienega; even though they have gotten her into trouble, and left her to face danger by herself many times. She is also bullied by a gang of girls known as The Gross Sisters.
She is also somewhat of a feminist at times, and is very logical. She is a very talented singer as shown when she becomes a solo singer for Wizard Kelly productions but quits after missing her old life. Penny's a Straight A student. She's on the Football team and the Newspaper Staff. Penny tried out for cheerleading, but due to having an accident LaCienega got the last spot on the cheerleading squad. Penny is also good at reciting poetry and becomes jealous when Dijonay becomes just as good as her.
In The Proud Family Movie (which acts as the series finale), Penny turns 16, and she begins to want independence, but her father has issues letting her go. She saves the world and makes up with him, and he finally realizes she's her own person who can make her own decisions.
The Proud Family is known for haveing tons of guest stars. Practically every episode has one. Those that have guest starred include: Omarion, Mo'Nique, Solange Knowles, Gabrielle Union, Vanessa L. Williams, Sheryl Lee Ralph, Carlos Mencia, Shia LaBeouf, Wendy Raquel Robinson, LisaRaye McCoy, Cicely Tyson, Ray J, Luther Vandross, Cree Summer, Miss Kittie,Anthony Anderson, Jamal Mixon, David Alan Grier, Ron Glass, Jenifer Lewis, Robert Guillaume, Samuel L. Jackson, Vivica A. Fox, Mariah Carey, Ashanti, Kobe Bryant, Kurt 'Big Boy' Alexander, Lil' Romeo, Raven-Symone, Alicia Keys, Al Roker, Lou Rawls, Dante Basco, Pablo Santos, Tisha Campbell-Martin, Smokey Robinson, James Avery, and Steve Harvey.
The Simpsons
The Simpsons is an American animated sitcom created by Matt Groening for the Fox Broadcasting Company. The series is a satirical parody of a middle class American lifestyle epitomized by its family of the same name, which consists of Homer, Marge, Bart, Lisa and Maggie. The show is set in the fictional town of Springfield and parodies American culture, society, television and many aspects of the human condition.
The family was conceived by Groening shortly before a pitch for a series of animated shorts with the producer James L. Brooks. Groening created a dysfunctional family and named the characters after members of his own family, substituting Bart for his own name. The shorts became a part of The Tracey Ullman Show on April 19, 1987. After a three-season run, the sketch was developed into a half-hour prime time show and was an early hit for Fox, becoming the network's first series to land in the Top 30 ratings in a season (1989–1990). Since its debut on December 17, 1989, the show has broadcast 508 episodes and the twenty-third season started airing on September 25, 2011. The Simpsons is the longest-running American sitcom, the longest-running American animated program, and in 2009 it surpassed Gunsmoke as the longest-running American primetime, scripted television series. The Simpsons Movie, a feature-length film, was released in theaters worldwide on July 26 and July 27, 2007, and grossed over $527 million.
The Simpsons has won dozens of awards since it debuted as a series, including 27 Primetime Emmy Awards, 30 Annie Awards and a Peabody Award. Time magazine's December 31, 1999 issue named it the 20th century's best television series, and on January 14, 2000 the Simpson family was awarded a star on the Hollywood Walk of Fame. Homer's exclamatory catchphrase "D'oh!" has been adopted into the English language, while The Simpsons has influenced many adult-oriented animated sitcoms.
References to The Simpsons in Hey Arnold
The Three Friends and Jerry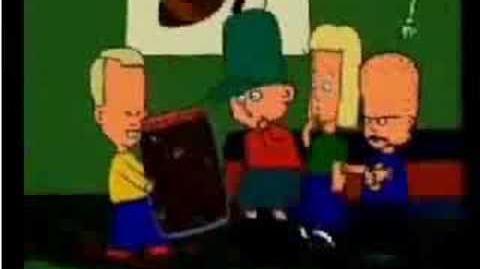 The Three Friends and Jerry was an animated television series which aired in the United States on Fox Family, Nickelodeon in the UK and TG4 in Ireland from 1998 to 1999. A Swedish/British co-production, the series was created by Magnus Carlsson and produced by Happy Life Productions and TV Loonland.
The plot featured Jerry, a new kid who does not fit with any of his schoolmates. The series shows his best attempts to try to be liked by the 'three friends' who do not want him to be part of their group but still let him hang out with them as long as he helps them with their problems. They meanwhile also fall for a group of the girls in town, who refuse to date them by calling them Ponks.
The show was very politically incorrect and was heavily criticised as a result. However, Nickelodeon did adopted The Three Friends and Jerry into their schedule even though many people thought it was not appropriate for children to watch.
The show featured sexual themes as in one episode Jerry peeps on Linda while she's putting on panties in the girls' locker room. Also in the opening intro, the boys are trying to look at the girls' panties with a mirror while the girls are jumping rope. In another episode the kids are caught by their teacher going to pornography pages on school computers. The show also showed the kids doing illegal things like counterfeiting money and breaking in houses. As a result, the show was only broadcast for around one year in United States.
Nickelodeon in the UK did not cancel the show but placed it in the 6am time slot in hopes that not many people would watch it.
The Weekenders
The Weekenders was a Disney animated series about the weekend life of four diverse 7th graders: Tino Tonitini, Lorraine "Lor" McQuarrie, Carver Descartes, and Tish Katsufrakis, voiced by veteran cartoon voice-actors: Jason Marsden, Grey DeLisle, Phil LaMarr, and Kath Soucie, respectively. It is stated at least once that the four main characters are each twelve years old. The setting is the fictional town of Bahia Bay, California.
The series, created by Doug Langdale, made its debut in 1999 as a part of Disney's One Saturday Morning on ABC and later on Disney's One Too on Sunday Mornings and Weekday Afternoons. The show's title theme (performed by Wayne Brady) was written by both Brady and Roger Neill. Later it moved to cable channel Toon Disney and aired on The Disney Channel for a short time. In Canada, it was shown on the Family Channel three times a day on weekdays. In the UK, Disney Channel began airing the show exclusively on Friday Afternoons, Saturdays and Sunday Mornings to fit in with the basic premise (the Latin American version of Disney Channel did the same when airing the show).
The show became popular because of its distinctive animation style, and character movements were fluid. One of points of deliberate humor by the animation was that the eyes on each character were far apart, similar perhaps to Nickelodeon's, Rocket Power.
Each episode takes place during the weekend. Friday usually sets up the conflict for the episode, Saturday escalates or develops it, and the climactic third act is usually what happens on Sunday. The implied "ticking clock" is used to signify that the problem must be solved before school on Monday. Unlike most children's cartoons and teenager's television programs, The Weekenders rarely touches upon the aspects of school life. Furthermore, because it is the weekend, the characters are not supposed to be in school, and thus they are allowed to partake in activities that are not school-related (such as playing arcade games) without a logical error.
The episodes either tell one story for the full-time duration (as in "Nevermore," a Halloween special) or two stories that each take up half of the episode. Although most of the episodes are told from the character Tino's point of view, making him the de-facto protagonist, the episodes can and do center around the other three. Similarly, although Tino frequently provides an introductory greeting and exposition, à la Greek chorus, the other characters sometimes make the episode's conclusion or will step in for Tino to make the introduction. When this happens at any time, the fourth wall is broken. The main characters seem to be fully aware of the audience and the fact that The Weekenders is a cartoon in production, as when Tino says "Okay, next scene!" or harshly ordering to "Go to Sunday!" or that certain phrases are not allowed by television censors.
TV Guide dubbed The Weekenders as "the show that killed Pokémon," because ABC stole the ratings when they aired it at 10:00 am - the same time Pokémon aired on Kids' WB. The Weekenders last aired on Toon Disney in 2008.
Waynehead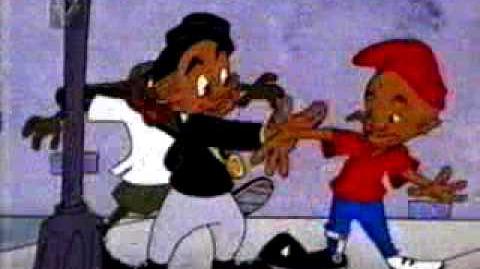 Waynehead was a Saturday morning cartoon created by American actor Damon Wayans and was produced by Warner Bros. Animation and Nelvana. It is about a young child from a poor background with a clubfoot and was based on Wayans' childhood in the urban, Harlem neighborhood of New York City.
Inspired by the childhood of film/TV actor Damon Wayans, Waynehead showed that physical and financial challenges were no match for a healthy imagination and a smooth attitude. Damey Wayne was the star's 10-year-old alter ego, complete with a few autobiographical touches. The "Waynehead" nickname was also a true-life note, given to Damey and his brothers because of their home-sheared hairdos.
In the cartoon, Damey and family lived in lower Manhattan, where the boy went through the usual ups and downs of childhood. The lack of money in the Wayne household made for a few extra challenges, but Damey compensated, as always, with creativity. If he wanted a toy, he built one from the neighborhood junk. The boy also honed his mechanical skills by taking apart anything he could get his hands on, though putting it back together was another matter.
Characters in the show included Damey and his family and friends Monique, Shavonne, Toof, Blue, Tripod (a three legged dog) and others.
The Wayans, including siblings Kim, Shawn and Marlon, all provided voices. Big named actors also appeared in the cast including Gary Coleman and Orlando Brown.
The show ran on Kids' WB in America and on Channel 4 in the United Kingdom between 1996-97. The show earned high praise, but due to poor ratings the show was cancelled during its first season with the last two episodes not airing.
The show has never been released on VHS or DVD.
See also