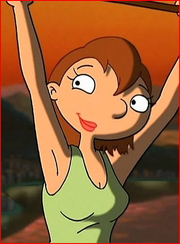 Stella is a fictional character in the Hey Arnold! TV Series.
Biography
Stella is Arnold's beautiful mother. She happened to be in the jungles of San Lorenzo (apparently as part of an archaeology expedition) when Miles literally fell into her life. Stella's late father was named Arnold — it's not exactly a coincidence, as that is who she named Arnold after. it seems likely Arnold inherited his "football head" from her side of his family. Despite only appearing in 3 episodes, she has a large role in all of them. She seemed to be very protective of Arnold and was extremely reluctant to abandon him.
Profession
Stella is a Doctor/Scientist in Botany (also known as Plant Science, Phytology, or Plant Biology) and is a branch of biology that involves the scientific study of plant life. Botany covers a wide range of scientific disciplines concerned with the study of plants, algae and fungi, including structure, growth, reproduction, metabolism, development, diseases, chemical properties, and evolutionary relationships among taxonomic groups.[1]
Appears in
References
This article is a stub. You can help Hey Arnold Wiki by expanding it.