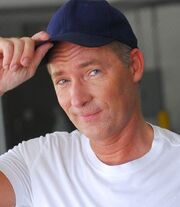 Stephen Stanton is an German-Born American voice actor and impressionist who will provide the voice for Pigeon Man replacing Vincent Schiavelli. He is best known for being a "audio double" or "voice match" for many actors such as Peter Cushing, Bruce Willis, Robert Downey Jr., Nicolas Cage, John Cusack and many others.
Some of his most well-known roles include "Star Wars: The Clone Wars" as Mas Amedda, "The 7D" as Sleepy, "BioShock" as Big Daddy and voicing Grand Moff Tarkin in "Star Wars Rebels" and voicing Admiral Raddus in the 2016 film "Rogue One".
Ad blocker interference detected!
Wikia is a free-to-use site that makes money from advertising. We have a modified experience for viewers using ad blockers

Wikia is not accessible if you've made further modifications. Remove the custom ad blocker rule(s) and the page will load as expected.