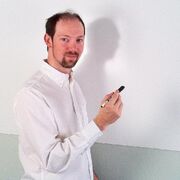 Steve Lowtwait is background and storyboard artist who got his first animation job on Hey Arnold! as an intern in August 1995, and worked on the series for its entirety, later returning 15 years later to work on the production of Hey Arnold! The Jungle Movie.
Trivia
Steve is a crude caricature of him.
Funnily enough, the 20th anniversary of Hey Arnold! was his last day storyboarding The Jungle Movie
External Links
Ad blocker interference detected!
Wikia is a free-to-use site that makes money from advertising. We have a modified experience for viewers using ad blockers

Wikia is not accessible if you've made further modifications. Remove the custom ad blocker rule(s) and the page will load as expected.