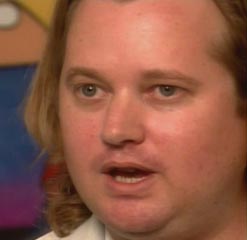 Stephen Lee "Steve" Viksten (July 19, 1960 - June 23, 2014) was the voice actor of Oskar Kokoshka, Caesar, and others, and a writer of the show. He wrote the most stories for the show out of all writers, with 65 stories, plus the movie. He also co-developed the show with creator Craig Bartlett and writer Joe Ansolabehere.
Life
Viksten was born in Ventura, California on July 19, 1960. His father was the vice president of the local Sears. During his teenage years, Viksten's family moved to Arcadia, California, where Viksten became editor of Arcadia High School's newspaper. After graduating from Arcadia High School in 1978, Viksten attended several universities including the University of Missouri, UCLA, and Cal State Fullerton, though he did not obtain a bachelor's degree.
In addition to Hey Arnold, Viksten wrote multiple episodes of Rugrats, Recess, Duckman, and The Simpsons. Viksten's sole contribution to the latter, season 22's "Homer Scissorhands," was his final writing credit before his death. He died of a heart attack on June 23, 2014 at the age of 53. He was given a posthumous tribute at the end credits of Hey Arnold!: The Jungle Movie along with cast member Vincent Schiavelli and Nickelodeon archivist Kevin Iwaki.
Writing Credits
Season 1
Season 2
Season 3
Season 4
Season 5
Other
Ad blocker interference detected!
Wikia is a free-to-use site that makes money from advertising. We have a modified experience for viewers using ad blockers

Wikia is not accessible if you've made further modifications. Remove the custom ad blocker rule(s) and the page will load as expected.