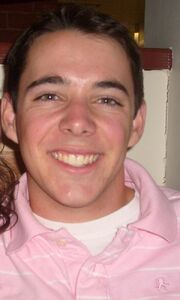 Taylor Robert Gifaldi
 (born May 16, 1989) is a voice actor in the
Hey Arnold!
TV Series.
He is the younger brother of Sam Gifaldi.
He provided the voice of Sid in the episode "April Fool's Day", since his older brother's voice had changed shortly after the production of Hey Arnold! The Movie. It is presumed that he would have voiced Sid in the original version of Hey Arnold! The Jungle Movie before it was cancelled in 2002.
External Links
This article needs expansion. But, with a little cultivation, it could become a virtual paradise. Won't you please help out an article in need? This template will categorize articles that include it into the Article stubs task category.
Ad blocker interference detected!
Wikia is a free-to-use site that makes money from advertising. We have a modified experience for viewers using ad blockers

Wikia is not accessible if you've made further modifications. Remove the custom ad blocker rule(s) and the page will load as expected.