The Baseball is an episode of Hey Arnold!.
Summary
Arnold's favorite baseball player, Mickey Kaline, is about to retire, and Arnold's determined to go to his last game.
Gallery
Trivia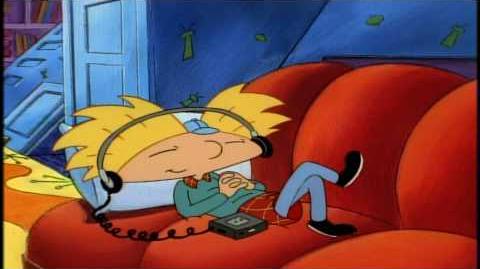 This episode uses different music for the credits. It's the Hey Arnold! theme played on a ballpark organ.
There are currently two Quigley Stadiums that exist in the United States. A 15,000 seater stadium in Little Rock, Arkansas and a 2,000 seater stadium West Haven, Connecticut.
Ron Perlman, from the TV series Beauty and the Beast, voices Mickey Kaline.
Next to Arnold's "THIS IS NOT MONEY" jar is a "Donna Smith's Spelling Book". Donna Smith is the show's production manager.
Some of the ads in the stadium include Pop Top Kola, Green's Hawaii Tours, Your Ad Here, B-EYE TV "First In Happy News" and ZING! Shave X-Tra Smooth.
This is the first episode directed by Dale Case.
When Arnold announces Mickey Kaline's retirement, Grandpa says "That old fat guy? I thought he was dead." Stinky says the exact same line in "School Dance" regarding Dino Spumoni.
Goofs
Mickey Kaline wasn't wearing a batting helmet.
In one of Arnold's running scenes, he passes an empty section which is next to a section filled with people.
The scoreboard had the home team on top, which never happens (since the visiting team always bats first), and the sum of the individual inning runs should have had the score 2-1, but the totals said 4-3.
Helga had a speaking part, but she wasn't listed in the credits for this story.
Near the end of this episode Phil was waiting for Arnold outside, but after the episode ends with Arnold playing Catch with Mickey and the camera zooms out Phil's car isn't there anymore.
See also
External links
This article needs expansion. But, with a little cultivation, it could become a virtual paradise. Won't you please help out an article in need? This template will categorize articles that include it into the Article stubs task category.
Ad blocker interference detected!
Wikia is a free-to-use site that makes money from advertising. We have a modified experience for viewers using ad blockers

Wikia is not accessible if you've made further modifications. Remove the custom ad blocker rule(s) and the page will load as expected.