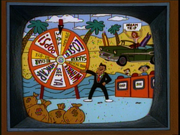 The Wheel is a fictional game show that appears on the TV series Hey Arnold!, in which contestants spin a wheel divided into different spaces to win prizes.
Appears In
Trivia
It is likely a parody of American game show Wheel of Fortune.
As seen in the episode "Arnold's Halloween, the different spaces on the wheel read "OOPS!," "No Cigar," "Big Car," "See Ya," "Winner," "Whole Enchilada," "Sucker," "Loser," "Spin Again," and "S.O.L.(abbreviation for "sorta outta luck")."
Ad blocker interference detected!
Wikia is a free-to-use site that makes money from advertising. We have a modified experience for viewers using ad blockers

Wikia is not accessible if you've made further modifications. Remove the custom ad blocker rule(s) and the page will load as expected.