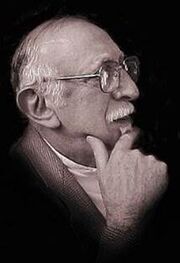 Tony Jay was an English-American actor who provided the voice for Rex Smythe Higgins, as well as the psychologist in "Das Subway." He was best known for starring in countless animated movies and TV shows, particularly those made by Disney. This included Frollo in The Hunchback of Notre Dame, Shere Khan in Talespin and The Jungle Book 2  following the death of George Sanders, Monsieur D'Arque the asylum owner in Beauty and The Beast and Anubis in Gargoyles. He also voiced Wraith from Disney's Mighty Ducks. Jay died in 2006 of lung cancer.
Voice Credits
Ad blocker interference detected!
Wikia is a free-to-use site that makes money from advertising. We have a modified experience for viewers using ad blockers

Wikia is not accessible if you've made further modifications. Remove the custom ad blocker rule(s) and the page will load as expected.