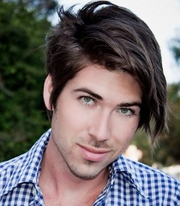 Toran Caudell is a former actor, voice actor, and musician who provided the voice for Arnold in Season 1 of Hey Arnold!, and the voice of Wolfgang in later episodes.
The role of Arnold was given to Phillip Van Dyke in Season 2, as Toran was unable to perform Arnold's voice after going through puberty. Though due to deviations from production order, some of Toran's work as Arnold was transferred to Season 2 and Season 3
Toran also reprised his role as Arnold in the episode What's Opera, Arnold?, as Arnold's singing voice.
Episodes
24 Hours To Live (Arnold)
6th Grade Girls (Arnold)
Abner Come Home (Arnold)
Arnold As Cupid (Arnold)
Arnold's Christmas (Arnold)
Arnold's Hat (Arnold)
Arnold's Valentine (Arnold)
Back to School (Wolfgang)
Benchwarmer (Arnold)
Biosquare (Arnold)
Chocolate Boy (Wolfgang)
Coach Wittenberg (Arnold)
Cool Jerk (Arnold)
Cool Party (Wolfgang)
Crush On Teacher (Arnold)
Dangerous Lumber (Wolfgang)
Das Subway (Arnold)
Door #16 (Arnold)
Downtown As Fruits (Arnold, Stinky)
Eugene's Bike (Arnold)
False Alarm (Arnold)
Field Trip (Arnold)
Four-Eyed Jack (Arnold)
Friday the 13th (Wolfgang)
Gerald Comes Over (Arnold)
Grand Prix (Wolfgang, Jacques)
Hall Monitor (Arnold)
Harold's Bar Mitzvah (Arnold)
Haunted Train (Arnold)
Heat (Arnold)
Helga's Boyfriend (Arnold)
Helga's Makeover (Arnold)
Longest Monday (Wolfgang)
Magic Show (Arnold)
Mudbowl (Wolfgang)
Mugged (Arnold)
New Bully on the Block (Wolfgang)
Olga Comes Home (Arnold)
Operation Ruthless (Arnold)
Part Time Friends (Arnold)
Partners (Arnold)
Pigeon Man (Arnold)
Principal Simmons (Wolfgang)
Roughin' It (Arnold)
Runaway Float (Arnold)
Sally's Comet (Arnold)
Sid And Germs (Wolfgang)
Snow (Arnold)
Spelling Bee (Arnold, contestant, Seymour)
Stoop Kid (Arnold)
Suspended (Wolfgang)
Synchronized Swimming (Wolfgang)
Teachers' Strike (Arnold)
The Baseball (Arnold)
The List (Arnold)
The Little Pink Book (Arnold)
The Old Building (Arnold)
The Sewer King (Arnold)
The Vacant Lot (Arnold)
Tour de Pond (Arnold)
Tutoring Torvald (Arnold)
What's Opera, Arnold? (Arnold [singing])
Wheezin' Ed (Arnold)
World Records (Arnold)