Ad blocker interference detected!
Wikia is a free-to-use site that makes money from advertising. We have a modified experience for viewers using ad blockers

Wikia is not accessible if you've made further modifications. Remove the custom ad blocker rule(s) and the page will load as expected.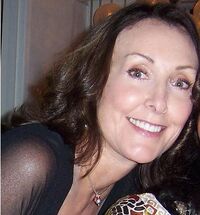 Tress MacNeille (born June 20, 1951) is an American voice actress who provided the voice for Grandma, Miss Slovak, Mayor Dixie, Red, and many more. Some of her most notable roles include various voices on the animated series The Simpsons, Including Dolph Starbeam, Agnes Skinner, and the Crazy Cat Lady, Mom in Futurama, Dot Warner in Animaniacs, Babs Bunny in Tiny Toon Adventures, and Daisy Duck in the Mickey Mouse franchise.
Voice Credits
#
Episode
Credits
02b
Field Trip
Grandma
03a
Arnold's Hat
Grandma, Arnold's mother
04b
The Old Building
Grandma, Mayor Dixie
05b
The Baseball
Grandma
06
Heat / Snow
Grandma, Harold's aunt
07
Operation Ruthless / The Vacant Lot
Grandma
08a
The List
Grandma
09a
Mugged
Grandma
12a
Das Subway
Grandma
13
Tutoring Torvald / Gerald Comes Over
Grandma. Miss Slovak
14a
Spelling Bee
Grandma, Miss Slovak
15a
Olga Comes Home
Miss Slovak
16a
Abner Come Home
Grandma
18b
24 Hours to Live
Grandma, Iggy
19b
Runaway Float
Miss Slovak
20
Arnold's Christmas
Grandma
21a
Helga's Boyfriend
Woman on film
24b
Teachers' Strike
Miss Slovak
25
Arnold's Valentine
Miss Slovak
26
Biosquare / Partners
Grandma, Miss Slovak
29a
Save the Tree
Grandma
31b
Big Caesar
40
Arnold's Halloween
Grandma
41b
Oskar Gets a Job
Grandma, Sherman Transport woman
45a
Helga Blabs It All
Grandma
50a
Casa Paradiso
Grandma
54a
Grandpa's Birthday
Grandma
56
Arnold's Thanksgiving
Grandma
57a
Girl Trouble
Grandma
60
Parents Day
Grandma
66b
Friday the 13th
Grandma
72a
Back to School
Grandma
74
Helga Sleepwalks / Fighting Families
Grandma
76a
Grandpa's Sister
Grandma
80
Summer Love
Grandma, robbed woman
85b
Rhonda Goes Broke
Grandma
86a
Helga's Locket
Grandma
93b
Family Man
Grandma
94b
Grandpa's Packard
Grandma, car show announcer
Film
Hey Arnold!: The Movie
Grandma, Mayor Dixie, Red
98
April Fool's Day
Grandma
99
The Journal
Grandma, mother of boy on Rio tram
100
External links