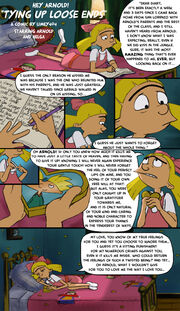 Tying Up Loose Ends is a short fan comic written and designed by limey404.
It is currently posted up on limey404's account at deviantArt.
Summary
Taking place after the events of Hey Arnold!: The Jungle Movie, Helga is heart-broken after spending days not hearing back from Arnold after their trip to San Lorenzo and the kiss they both shared. However, surprisingly, Arnold turns up at her house.
Comic
Ad blocker interference detected!
Wikia is a free-to-use site that makes money from advertising. We have a modified experience for viewers using ad blockers

Wikia is not accessible if you've made further modifications. Remove the custom ad blocker rule(s) and the page will load as expected.