Vic is a fictional character in the Hey Arnold! TV Series.
He and Morrie are usually seen as Oskar's friends, but with friends like them, Oskar doesn't need enemies. They work at an auto shop ("Grandpa's Packard").
Vic and Morrie always are seen together, in "
Wheezin' Ed
" it is revealed that Vic is the bigger of the two.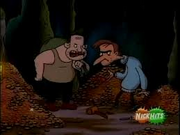 Appears in
This article needs expansion. But, with a little cultivation, it could become a virtual paradise. Won't you please help out an article in need? This template will categorize articles that include it into the Article stubs task category.